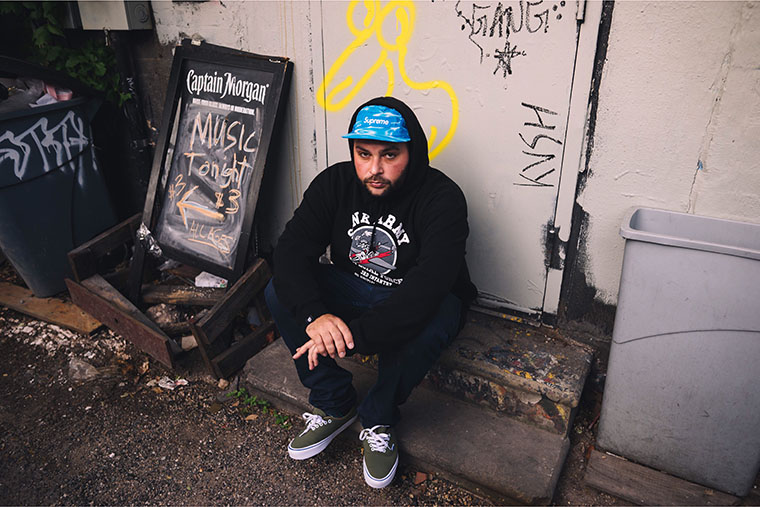 Artist Bio: Clemits is a rapper and producer from Austin, TX. Clemits latest album CRUSH debuted to critical acclaim in 2016. Clemits latest releases 'Gangster Jazz' and 'Fentanyl' debuted in HipHopDX.com in May 2018.
He is the host of his own podcast The Clemits Show on iTunes. Clemits has been an official performing artist at SXSW, A3C Festical, Warped Tour, and FunFunFun Fest.
1) What inspired you to be a part of the music industry?
I grew up during the Independent Hip Hop explosion and many of my friends were successful rappers producers and graffiti artist. My first European tour opening for Sage Francis when I was a kid made me want to do music.
2) Talk to me about the making of your latest project. What was the inspiration behind it?
My latest project A Cult Classic was created in my basement studio in Austin Texas under the supervision of LA engineer and producer Deeskee. He and I worked meticulously on creating thick hard bass.
I spent hours and tears and hundreds of grams of weed and wax creating what I think is my best art so far. I'm at the top of my game artistically. I have a new team of pr, consultants, managers and designers that are working tirelessly to create the highest art and to compete at the highest levels in Hip Hop.
3) What was the process behind making the project?
My process of creating music is to be as focused as possible on creating something that drips of originality. I want each beat or song to stand alone and to have a different sound than the last song or beat.
My music is a fingerprint of my inner thoughts presented through me the conduit to its final slapping form. I recently changed studios from my Travis Heights basement studio 'The Basement' to a beautiful new studio named 'Highland Studio A1' in central Austin. I fee like I'm making my best art.
4) What are your thoughts on the hip-hop industry at the moment?
The Hip Hop industry in this era can be eloquently summed up by this quote from author Hunter S. Thompson: "The music business is a cruel and shallow money trench, a long plastic hallway where thieves and pimps run free, and good men die like dogs.
There's also a negative side." That being said the my music has debuted to critical acclaim frim DJ Enuff of Hot 97, and more recently by arguably the biggest HipHop website of today HipHopDX.com
5) Do you enjoy grinding it out independently or would you prefer to be signed to a major label?
Ideally I would want to work with a major label like TDE to give my art the chance to compete and win on the highest platforms. Another strong option would to be working with an independent label like Mellow Music or Rhymesayers who operate at the highest levels of independent music.
I do embrace the power I have as an independent artist to launch my music directly to the fans and supporters. The era now is cool because you have everything from before that was cool documented and saved ready to go digitally. But you also have all the new music that expands on the classics and that pioneer new sounds.
6) What do you think goes into building a loyal fanbase?
So much goes into building a fanbase that it's almost hard to talk about. Obviously creating the best most captivating art is paramount. And coming from a personal space creativity is the clearest route to making original music.
Having the right knowledge about how to schedule the videos and promotion for a release and how to hire the right management and publicists are also very high on the list of what it takes to build a fanbase. I learned a lot from Open Mike Eagle and I have an amazing team of consultants and managers and an amazing publicist.
7) What sort of online promo and marketing are you doing to reach your fanbase?
I'm bulding relationships with fans and new listeners by doing shows and having real interactions on social media and through email. I've been receiving more emails with offers to buy beats or show offers than ever before.
My live show and my conversations and relationships with my fans and listeners are the key to my developing fanbase. I started a weekly podcast that is on Platform Collection titled The Clemits Show.
It features interviews with artist from the Austin Hip Hop scene. A scene rich in talent but often underspotlighted. I'm using the podcast as a platform to debut my new music and as a way for fans to gain insight into my life and my music.
8) As an indie artist, how do you brand yourself and your music to stand out from the rest of the artists out there?
I make the highest level of rap music that is all unique to me it's creator. I mean I'm making music that is unlike anyone's stuff because it's my ideas and writing briought to fruition. I have an amazing designer 319 Heads who does Fake Four and Myka 9 among others.
And my photographer Jay Ybarra @photo.jay on Instagram is a very talented artist in his own right. My collaborators and my team are some the best writers and artist in the industry. They, along with my consultants, help me directly showcase to my audience who I am what my brand stands for.
You can count on me for the best art and music. I've been into fashion and music my whole like so this is an extension of everything I love.
9) How do you currently make a living as an independent hip-hop artist? What sort of income streams do you have?
I'm a full time artist. I'm lucky enough to be able to persue my career full time. I work out of my studio every week Monday thriough Friday 10am to 4pm and I play shows on weekends all over the US.
I'm seriously making a run for the top of the Hip Hop world, the mainstream, and my goal is to live very comfortably off the income from my sales and touring. At this time I'm getting the most amount of sales and streams of my career so far. Things have shifted in my favor. Im going to a new level.