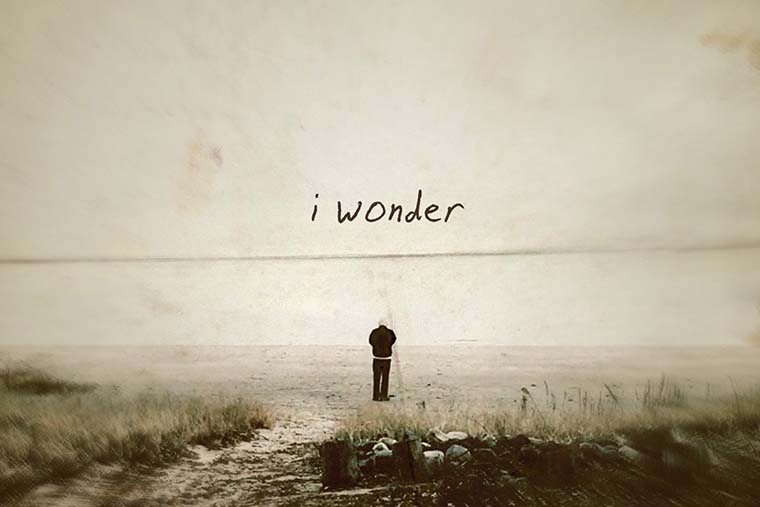 1) Talk to me about the making of your latest project. What was the inspiration behind it?
I started working on my album 'i Wonder' right after my last release in 2014, an album titled 'Forever Fictional'. I remember writing the chorus to the song 'i Wonder' walking around my living room saying " I wonder , I wonder…" and my daughter who was 2 years old at the time said "What it could be?" and I immediately finished the rest of the hook.
I finished the song by digging up a speech by an old philosopher by the name of Alan Watts who also repeats the oldest question in the world… "I wonder, I wonder" The old question being What, When, Where and Why are we here? That's the theme of 'i Wonder'.
The question of 'i Wonder' gets even deeper when we bring in the topic of Aliens on a song called 'We're Not Alone'. A Lot of the inspiration for this album came from conspiracy research that is essentially just truth seeking. That truth seeking lead me to all different sorts of enlightening corners.
'I Wonder' The EP is out now on all streaming platforms. I also just released another EP titled 'MAGiC'. I'll make a song about Aliens one day and next I'll write a song for kids. I almost released a whole album of children's songs but ended up using my favorite track that my daughter sings on.
She's also featured on the cover of the 'MAGiC' EP dressed as a witch with her coven of stuffed animals! 'MAGiC' carries a lot of the same themes as 'i Wonder' but could be considered the mixtape of the two future releases.
2) With the music industry tanking and record sales falling, how do you currently make money as an independent hip-hop artist?
Lol! That's a good one! I'm most definitely not making money off my music but I most definitely will turn music into my job. I also produce music with my best friend who goes by the name BEWARE.
We recently released a project titled 'Woodward Ave' that featured some of Detroit's finest MC's (Royce 5'9, Payroll Giovanni, Chavis Chandler, Elzhi, Nolan The Ninja and many more.) One of the songs titled "Triumphant" was played on Shade45 and our local radio stations, it also made a little bit of money!
Our goal is to stay sharp with every aspect of the music industry, songwriting, producing, management, and more so we can be ready for any job that presents itself. BEWARE is working closely with some of the best rappers in The D and will be releasing EP's with several different artist this year. The 'i Wonder' Project is entirely produced by BEWARE.
3) From a business point of view, which artists in the game do you think are really pushing the boundaries and changing it up?
The first people that come to my mind are actually producers, Metro Boomin and Mike Will'-Made-It. I guess I look at the business more as a producer than a rapper. I do listen to all the new music that comes out on Fridays and pick through my favourite tracks to bang on the daily.
Some of the artists that I think are doing crazy things right now would be Kendrick, Xxxtentacion, Young Thug, Kanye, Big Krit and Tech N9ne. I love so many artists!
4) What business lessons have you learnt from the music industry so far?
Some people have to do it all! If I would've started producing right when I started rapping I'd be miles ahead. You have to do it all, but also you have to have people that help with what their passionate about too.
It's great if you can do your own music videos but eventually that job should be given to the people that are as passionate about music videos is you are about rapping or singing. If you want to get into this business never stop!
I've always known this is what I wanted to do, but there has been times where i've overworked myself or took to much time off. Stay consistent, people after their dreams will constantly be tested!
5) What do you love about hip-hop music?
It's ever changing. The rules have been broken an rewritten and I'm not mad at that. It easy to grow up and hate what's new and different. I use to hate Young Thug that hate eventually turned into love.
I think we're hard wired to love our generation of music the best, but it's not that hard to step into the shoes of others and love the changes that are happening. Hip-Hop is not going anywhere, I love that!
6) What still surprises you about hip-hop?
The first thing that comes to my mind is how many sub genres there are. It's definitely not just Hip-Hop, Rap and Trap. There's a huge alternative moment in the underground hip-hop scene.
I also surprised myself when I started making songs about conspiracy topics. I thought there weren't many people rapping to "Wake people up" but there's quite a few others like me.
7) If you had the power to change one thing about the hip-hop industry to help independent artists – what would it be?
That more people could make money. In the producer circles there's talk of a union being started to protect the rights of producers. People like DJ Burn One are out there speaking out about not getting paid on some of these albums/mixtapes. I wish the people taking the game seriously had a better chance at making money.
8) Who do you think are top 3 rappers doing it at the moment?
I'll name 4 because my favorite rapper is always relevant. 1. DJ Quik (The best ever) 2. Kayne (Still one of the best) 3. Young Thug 4. Chance the Rapper (for the independent hustle!)
9) So what are your plans for the future?
More music. Truthfully, probably less ALLiTiZ more BEWARE production. Even though I might not release another album for awhile, I will always be writing songs.
There are some artists BEWARE and I will be working with in the future where we'll be providing the beats, lyrics, and song concepts, full EP's and albums. In the future you're gonna see a hit record written by ALLiTiZ produced by BEWARE.
All that being said, I do have plans to release a Greatest Hits Album this year. For most people that would be a brand new ALLiTiZ album because people are infamous for only listening to new stuff artists release!