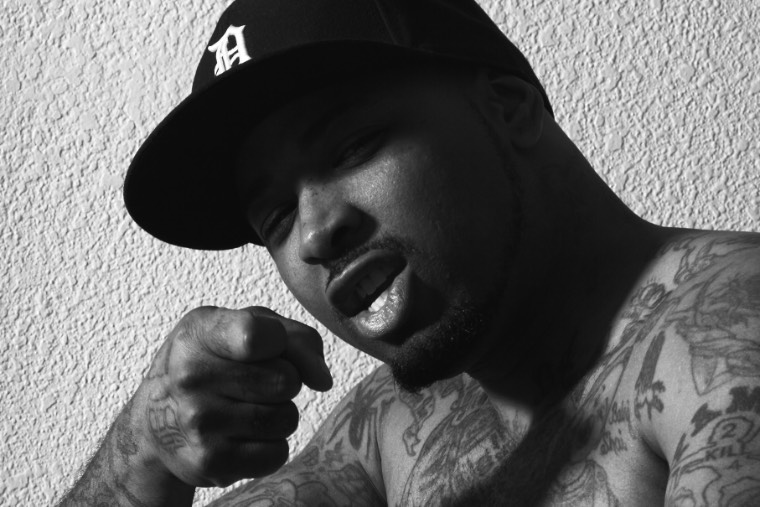 The facets of music and its ever evolving nature have given rise to a new breed of artist and musician. 3 The Goon is a leader in the new school of contemporary rap artists. He is constantly pushing the envelope and reinventing his sound. 3 The Goon is a multi-talented vocalist and rapper born and raised in Detroit, MI. Now based in Denver, CO. 3 The Goon is making music that is driven by a desire to motivate, inspire, comfort and to fully express himself.
Born Brian Price, 3 The Goon is the embodiment of originality and uses his experiences, roots and musical acumen to create an amalgamated and original sound. He previously donned the moniker of "The Real Chit Chat" under which he released 8 mixtapes. His current name is deeply rooted in meaning. The "3" represents the 3-year prison sentence when he decided to not give up and compete harder. A situation he vowed to never be in again. While 'the Goon' is a reference to taking out the competition.
'3 The Goon' is an established Rap/Hip Hop artist whose music is a pure distillation of his Detroit heritage. With unapologetically raw and vicious flows, witty metaphors and lyrical themes that reflect hard knock life on the streets, The Goon is as authentic as they come.
3TG cut his teeth early on, and was fortunate to be taken under the wing of Krayzie Bone (Bone Thugs n Harmony) at the age of 21. Dealing with Krayzie Bone's record label Thugline Records, he quickly became a promising act with rhymes fully showcasing the determination of a hungry artist who wouldn't rest until he reached the very top. Crossing over into the wrong side of the jail-bars after a race-related incident landed him in prison in Virginia; Krayzie Bone was the one who ended up bailing him out and encouraging him to never quit on his music dreams.
Since then, 3TG hasn't had an ounce of rest. Supported by his affiliates Crawla the Goon, Banks the Goon, Sack the Goon, and 54 Honyo, 3 The Goon has an incredible team of talent surrounding him from the studio to the stage and material that brings the crowd right to their feet demanding more.
1) What inspired you to be a part of the music industry?
Truthfully I was inspired by the love of rap music and my own imagination. I would picture myself doing a song this or that way in my own fashion. It got to the point that I had to put together my own music based on my thoughts instead of the rappers I listened to.
2) Talk to me about the making of your latest project. What was the inspiration behind it?
The 3 the Goon LP was recorded and mixed by myself and the lyrics were actually all written behind bars in the Arapahoe county Jail in Centennial, Colorado between the months of March and about December right before I got released. I basically went through a revelation lol. I realized that I needed to stay competitive and to do that I had to display these same lyrics that made everybody hype about my shit when I was locked down.
3) What was the process behind making the project?
The process was going through stacks of lyrics written over time after finding dope producers like Wyshmaster, DJ Pain 1, and Fantom. Hennessy, Remi Martin, Gin & Juice and all types of exotic marijuana were always around. Sometimes I had my homies over and most of the time I was recording alone. Still, me and a blunt or two. Then sitting down engineering it a little and coming back to it over a month or two deciding if the mix was right or not. People kept telling me the shit tight so I just released it. Plus I was converting from my stage name because I already released so many projects (The Real Chit Chat) so I had a point to prove as far as showing people that 3 The Goon was here to stay.
4) What are your thoughts on the hip-hop industry at the moment?
The industry is like a jungle. I compare it to an overcrowded city. So many animals, so many rappers but not many artists. I don't see a lot of rap artists with being professional in their mind. I don't listen to everything but I don't mind hearing anything. From what I hear it's that some unheard voices bring heat with different styles and topics but they don't push hard enough to be heard.
5) Do you enjoy grinding it out independently or would you prefer to be signed to a major label?
I would love to have some major label backing me with distribution, marketing, and promotion but I need my creative freedom. The way I do music is all in the fashion of my company Bloclub Entertainment (block – club) so it's from the streets but I touch angles in either an artistic way or a direct and ghetto way and still have professionalism at the same time. I like the vibe here.
6) What do you think goes into building a loyal fanbase?
Connection. If people only knew who they were actually listening to! If they only knew about my ups and downs and my strengths and talents in this music game as well as in life in general. These things need to be known. To know a person is pretty much just like you but he endured pain and struggle like a boss. He is somebody to model either success after or a lifestyle after, whether good or bad. That connection is the key.
7) What sort of online promo and marketing are you doing to reach your fanbase?
We're promoting on Spotify, Apple, YouTube and starting to step into IG more. The budget is the issue when it comes to that because I only want to invest in strong markets but tests have to be run and money have to be spent to run them. There's more marketing plans in the works.
8) As an indie artist, how do you brand yourself and your music to stand out from the rest of the artists out there?
I brand myself as The Goon but not in the sense of the ski masked robber as much but more like the competitor. The goon, hired to take out competition and drag me through hell lol. Basically, I'm an artist, I'm artistic but I come from the poor and unfortunate lifestyle of a black minority from the blackest city in America: Detroit. So with that being said, I ran the streets just like anybody else and in a lot of cases pressed the gas harder than most rappers who say they from the street. But I would like to live life better so I write about dreams and fantasies that people might think are real that haven't happened yet or be a lyrical monster or be a savage goon or hustler. Brand me as a street success!
9) How do you currently make a living as an independent hip-hop artist? What sort of income streams do you have?
I'm not making money from rap. I'm attempting to. I do have publishing set up for royalties but the last check I got from them was so low I framed it and hung it over my studio for motivation to push harder.