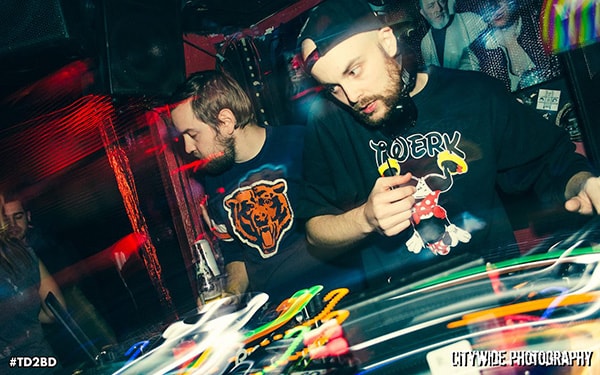 Dan Dwyer and Josh Andres are Statik Link — a duo of two musicians whose skills have crafted them into a complex and dynamic production and DJ group.
Both rising from the land of the Midwest with deep musical backgrounds, the two came together one spring evening in 2011 at Chicago's famous Porn N Chicken for a fateful b2b set. That set became the foundation for Statik Link, and the two began working together, quickly establishing their raw, trap-based sound.
Statik Link's Renaissance EP is set to release beginning of April 2016, with the release of it's first single, "Black Lotus" set to release here soon on February 4th.
1) What inspired you to be a part of the music industry?
Josh: The challenge of success and to break the norm. Since I was younger I was told that you should go to college, get a steady job, and have a family. All these things were great, and I applaud people who are able to dedicate their time to doing those things, however, I was never able to focus on one thing.
I wanted to see the world, experience different cultures, and share hip-hop music with other people. When I was younger I felt like the hip-hop culture embraced who I was. I decided to start creating music and making it focus as a career in my early 20s. Ever since then I've been creating music, DJing, and trying new sounds that push electronic music to a new level. I've been extremely lucky to make a living off of doing what I love. It's a lot of hard work, but I wouldn't trade it for anything.
Dan: I really can't say there was ever a conscious decision on my part to be apart of the music industry. Music has always played a central role in my life. Either listening or playing music has been at the core of what I do for my entire life. As I grew older I didn't really attempt to do anything but work in creative fields. This and the fact that my primary creative outlet is music led me to where I am now.
2) Talk to me about the making of your latest project. What was the inspiration behind it?
Josh: When I got into the industry I was primarily focused on creating Hip-Hop instrumentals and finding different artists to work with. Switching over to Dance music and working with Dan, it opened up the opportunities to merge Dance music with Hip-Hop and experiment with different sounds.
We were inspired by producers like Metro Boomin', Mike Will Made It, Sonny Digital, and a lot of Atlanta Trap Music producers on this EP. We wanted to use percussion very similar to the Atlanta sound but focused on Future Bass and EDM Trap for the melodies.
Guys like KRNE, Quix, Stooki Sound, Troyboi, Flume, and Mr. Carmack, are some of the producers that really influenced the melodies and song structure. We wanted to create something that walked the line of Rap and Dance music. The main focus was to give the Dance community something fresh, something new, that would inspire people. I'm 100% confident we did that and am very proud of the project!
Dan: From a mechanical perspective we approached this album with a desire to make it clean. In the pass we've made a lot decisions to keep the mix busy and to create as much energy as possible.
With this album we took a look at modern music and decided we wanted to leave more room for movement. We wanted a more dynamic sound with as much focus on the space in-between the beats as the beats themselves.
3) What was the process behind making the project?
Josh: This project was pretty unique compared to our last few projects. In the past, we wanted to put out as much music as possible to continuously have our name out there. Our prior EPs took a month, at the most, to complete.
A lot of the prior tracks were completed on the road or in a bedroom studio using the same digital instruments, with little to no hardware (analog) gear. Also, we would be working on a lot of collaborations for other artist's projects, and marketing while creating our own projects. This clouded the process and pulled away on some of the creativity. We changed a lot with the new EP.
With this project we spent a lot of time in the studio working with different sounds, and focused 100% on creating the best project we could. We cut out all collaborations, built a team to help us market the project, and changed the creative process.
We used hardware gear, different forms of mixing and mastering, and worked with some incredibly talented artists this time around that helped us create the best project possible. This is honestly, in our opinion, is the best project we've ever done.
https://soundcloud.com/statiklink/vic-mensa-u-mad-statik-link-remix
4) What are your thoughts on the hip-hop industry at the moment?
Josh: I think the hip-hop industry is in a great position. A lot of unique artists are releasing amazing music. I'm also happy to see producers getting more recognition now as well. I see a lot of crossover instruments and sounds, as far as Hip-Hop and Dance music, forming together to make amazing performances and recordings.
I feel like the hip-hop community is more receptive to different sounding music than it had been in the past. We work closely with one of my good friends, TJ Mizell (A$AP Ferg's tour DJ), and he has been using a lot of Dance music in Ferg's live performances. It's awesome to see artists with an open mind and experiment with unique sounds and production. I think a lot of this has to do with being an independent artists.
Using social media and the Internet to interact with fans and see the trends. This allows new artists, who maybe would've never had a shot, to get their share of the limelight. I'm excited to see the direction of Hip-Hop music in the future.
Dan: I think the hip-hop industry is moving forward at a speed that is crushing other genres. More than any other genre of music, hip-hop has embraced the internet and the digital age of marketing and creative collaboration. Artists are able to create a piece, fine tune it and control the way it presented to their fans. It's really the only genre outside of edm that has as much control and artist fan interaction.
5) Do you enjoy grinding it out independently or would you prefer to be signed to a major label?
Josh: We enjoy being independent. It's a lot of hard work, but it doesn't stifle our creativity. It let's us make music we want to make. We've worked with major labels in the past, releasing one record with Sony Music Australia, but it wasn't a long term deal.
It was nice to gain some exposure from that one time release. We would definitely be open to working with a major label and placing music with an artist on a major label as long as it didn't require signing a long term contract. We like the freedom of being able to choose who we work with and what we can create.
Dan: I think it's a line we'd like to walk. We don't want to be put in a position where we lose control over our creative direction but we'd also like the support and access that comes with a major label backing. It would really be up to a label to find a scenario that resonates with us.
6) What do you think goes into building a loyal fanbase?
Josh: I think communicating with your fans, listening to what they want to hear, and working hard to deliver a product they feel they can support. Social media has been both a blessing and a curse, haha.
It gives us the opportunity to communicate with our fans and hear what they want, but of course you have to listen to the negative feedback too, which can sometimes be tough when you spend a lot of time creating something you believe is the best. We are lucky to have our fanbase. They are great.
It's amazing that we've done shows in Philly, Detroit, Dallas, Providence and Atlanta where we see people wearing Statik Link T-Shirts.
Dan: I think if you're honest with your fans then they'll be true to you. We've taken our sound and gone a dozen different directions with it because that was how we were feeling. If we were to put out something that seemed like a cash grab or didn't fit our personalities it would be a major turn off for our followers.
That being said. I think it's important to focus on what you want to say when you're building your fanbase. If you don't know what you're trying to communicate than nobody is going to want to stop and listen.
https://soundcloud.com/statiklink/aap-ferg-ft-marty-baller-jungle-statik-link-x-tj-mizell-remix-1
7) What sort of online promo and marketing are you doing to reach your fanbase?
Josh: Online promotion and marketing is critical to the success of an artist this day an age. We want to continue to grow our fanbase. We are positive there are people out there who have heard our music, like it, but don't feel connected to our movement.
We've started to work with an awesome publicist, Brittany, who is helping grow our brand. We've also started to focus on using SnapChat, Instagram, and posting YouTube videos to let our fans see the creative process behind these projects.
We want our fanbase to feel included, to feel like they were there when it all happened. We encourage our fans to reach out to us on Facebook, Twitter, Instagram, or whatever social media and ask us questions or just say What up, haha.
Dan: We're always working to find new ways to reach people. Since 2015 we've made a point to try and grow as many contacts as we can from various online outlets. If you're only reaching the same 20k followers every time you release something than you're not growing your reach. We want to make sure that we're always striving to reach new ears. People that may not have had a chance to hear what we're doing yet.
8) As an indie artist, how do you brand yourself and your music to stand out from the rest of the artists out there?
Josh: We try to make unique sounds. In production, it's difficult to develop a sound. There's no recognizable voice, so it's up to the song structure, percussion arrangement, and instruments to make people say "That's a Statik Link production."
We've worked hard to do that, but honestly, we never concentrated solely on developing a sound. It just kind of happened. We noticed it when certain tastemakers were reviewing our releases and talking about our percussion arrangement. That's when we felt we were doing something unique.
As I said earlier, we've also tried to focus on developing new ways to make our fans and followers feel involved in the process behind the music. We know our music is different and we appreciate the people who embrace us trying new styles of production.
Dan: I think Josh pretty much sums it up. We've always focused on producing an extremely polished sound. Everyday we work to make sure that we're learning and experimenting with new ways to create and perfect our process. If the product is unique in quality and style than people will notice.
9) Where do you distribute and promote your music and why do you think this channel works best for you?
Josh: We release remixes and ideas on our Soundcloud page, which you can find in this article, usually for Free Download. We distribute our album/EP releases either through Plenum Records, Dirty Duck Audio, or our own label, Statik Link Music.
We do this to make sure our music is on the major streaming platforms such as Apple Music, Spotify, YouTube Red, etc. We choose to work with Dirty Duck Audio and Plenum Records because of their support of our music from the beginning. On this new project though, we've decided to release it for both Free Download on Soundcloud and on our own label, Statik Link Music, so our fans and potential new fans can get the project anyway possible.
The music will also be available on all of our social media pages and we encourage our fans to give us feedback and let us know what you think! We've also been lucky to work with some of the industry's biggest tastemakers and websites which has really helped grow our brand. We are excited to see what the future holds for us.
Dan: Josh and I were both excited to work with STB because it's a new market for us. We've been trying to reach out to hip-hop blogs for awhile because we thought we had a product that would interest their followers. Like we said earlier we value the opportunity to have our music in front of any new ears.