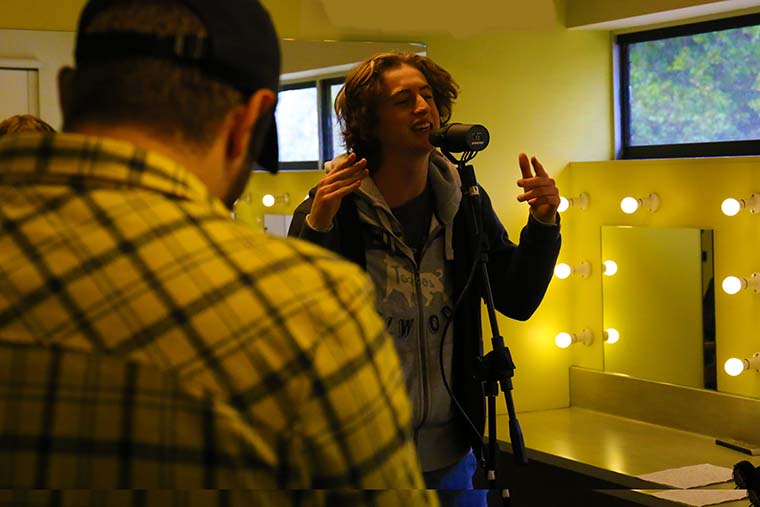 Playing on the theme of adolescence and weighing up the pros and cons of being sensible, C-K-H brings a view beyond his years where he is stuck between a vortex of friends going down the wrong path and dreams that are only achievable with a clean state of mind.
A personal touch to 'Disrespectful' is his teachers speech confronting C-K-H and his close friends which lead him to ponder on life decisions that were fast approaching. C-K-H has achieved some notable successes in his short career, including winning the 2018 Bairnsdale Battle of the Acts and accumulating 23,000 plays on his single B l u e.
Having played his role in community held events and building a reputation within his region, it is clear C-K-H is ready to level up, the proof being in his outstanding work ethic and will to elevate to levels of his inspirations such as Joyner Lucas and Kendrick Lamar.
1) Do you remember the moment you wanted to be a hip-hop artist?
Yea I lost a bet in year 9 and had to make a rap for school about e-waste in china and we all just had a mad time making it, even though it was just a complete joke. So I'm just there thinking, lets do it again.
2) What was it like creating your latest project?
It was electrifying. I hadn't ever put actual effort into making music, it was just kinda continuing the joke that I started in year 9. So I took a break from making music to learn everything I needed to and then I started putting together all the skills I'd just learnt and experimented with sounds and techniques.
Every day I tried something different was an exiting day. Eventually I had a project that I was proud of, which was the first time in my career I felt like this.
3) What are you trying to achieve with the project?
I was trying to show my fan base (as a small at that is at the moment) that I'm a serious rapper and its no longer a joke.
Also, I was trying to grow and expand my fan base and develop my music as a brand.
4) What are your thoughts on staying independent or signing to a major label?
I'm torn because I feel like major labels are the devil, money making corporations that don't care about music. However, to develop my career they can do wonders.
5) How do you feel about the independent hip-hop industry right now?
Again, I'm torn, because on one side the only music that really makes it these days is 'meme' songs, rather than catchy good hip hop songs. That's one issue that I have. The other issue is the over populated market because 5 years ago we saw a massive surge from SoundCloud rappers making it in the mainstream. Every new rapper is trying the same avenue and is clogging up the market.
That's one advantage of a label. However, it is good that there are independent rappers at the top of the game right now, showing that labels aren't necessary, eg. Joyner Lucas.
6) As an independent hip-hop artist grinding it out, what sort of promotion and marketing are you doing to stand out from the rest?
I'm a big fan of putting a face to the music, so I focus on people seeing my face when they hear my music. So I focus on the live scene, getting gigs as much as possible, busking on the streets of Melbourne, playing at open mic nights to expand my music and my brand.
7) How do you currently make money as an independent artist?
It's hard but I have a few revenue sources such as: selling cd's, merch, online downloads, and then playing live gigs and busking.
All of these are available on: www.c-k-h.com
8) How do you feel about hip-hop today?
I'm not a fan of the trap scene dominating but ignoring that, lyrical rapping is developing into new places and I'm excited to see the outcome, even if I'm not involved in it.
9) What artists in the game today do you look at for inspiration?
I'm a massive fan of artists who are passionate about music. For this reason Tash Sultana inspires me so much because of her passion, energy and her love for music.
10) Who are your top 5 rappers dead or alive?
Sampa The Great
Joyner Lucas
J Cole
Tyler The Creator
NAS