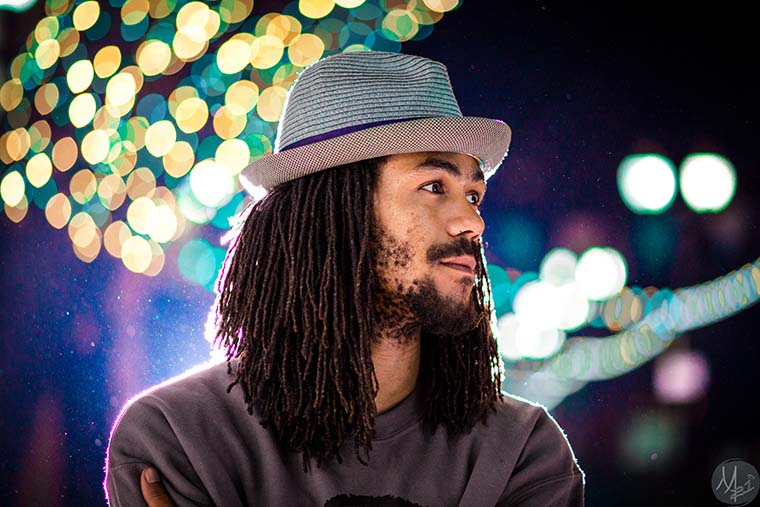 Bio: Native to Oakland California, VisualEyez The Poet prides himself on diversity. Styles and genres ranging from Big Band and Swing to Island Reggae to all forms of Hip-Hop music!
Taking his craft seriously since 2012. In 2015 he scored the entire soundtrack to the video game Afro Samurai 2 :The Revenge of Kuma with The Rza (Wu-Tang) as his musical director.
Building upon his career he has released multiple Mixtapes and albums and collaborations with producers and artists from all around the world.
A very detailed lyricist with a message to his music. He continues to evolve in his musicality as well as his functions on and off the stage and into the sound engineer's seat. He aspires to bring more substance of color and positivity to the industry!
1) What inspired you to be a part of the music industry?
I'd have to say it was my natural attraction to the music at first, being raised in a very musical surrounding, then creating the music myself and flourishing in the concepts and talents I possessed.
From there it became a matter of distribution and sharing which was the initial step Into the industry.
2) Talk to me about the making of your latest project. What was the inspiration behind it?
My latest project "Another Level Up" was fully inspired by the sounds of the producer Luvjonez! I was instantly drawn back to Golden Era as soon as I put my ear to his arsenal! As well as the current state of my personal and cultural conditions of today.
3) What was the process behind making the project?
So about year ago, Luvjonez sent me an instrumental which I made a song out of titled, "Family Tree". Very captivating and reflective. However, when I published the album " Self-Expandatory" which had the track on it, I messed up the spelling of his name, so the credits weren't divided equally!
Major Oops.. I could tell he was not satisfied with that. So I hit him up about 6 months later to see if he had any new material he wanted to work on. He respectfully was pretty vague. Lol so without his actual consent I snatched some of his loops off his YouTube page!
I crafted all 15 tracks and sent them to him hoping he was going to cherish them just as much as I. Blessfully so, he did. He then wrote back and said, "damn, we got to put this out into the world".
4) What are your thoughts on the hip-hop industry at the moment?
The Hip-Hop industry is doing amazing from indie to label! There is absolutely no cap to what it can and will evolve into! Creation and imagination will continue to carry it to new heights!
5) Do you enjoy grinding it out independently or would you prefer to be signed to a major label?
Honestly I feel that it's almost necessary to grind as an independent artist! It teaches you every facet of the game and totally relies on your effort as an entrepreneur of your own skill and will! At this point however, I'm ready to put a label behind my artwork and have a team to cover all bases that one has to divide himself from other points of focus to achieve! I'm ready for the majors!
6) What do you think goes into building a loyal fanbase?
Consistency is the greatest method of action to attract and maintain a loyal fan base. That's creating, promoting and speaking to your audience!
7) What sort of online promo and marketing are you doing to reach your fanbase?
I'm using all social media platforms for starters, but also invest in blog reviews and article write ups! As well as marketing/promoting companies such as yourselves here at Stop The Breaks!
8) As an indie artist, how do you brand yourself and your music to stand out from the rest of the artists out there?
Definitely, I believe the music should speak for itself! I've been branding my name with daily post and sharing my artistic insights and music throughout all platforms to consistently keep my brand/name in the public eye! I'd say my content and quality is what my audience relate to and at the same time separate me from the majority!
9) How do you currently make a living as an independent hip-hop artist? What sort of income streams do you have?
As an independent musician im currently working 2 jobs and receiving royalties from my music streams, yet not enough to cover the bills entirely! Though I'm aware, it only takes one opportunity/connection to make all the difference in the world!