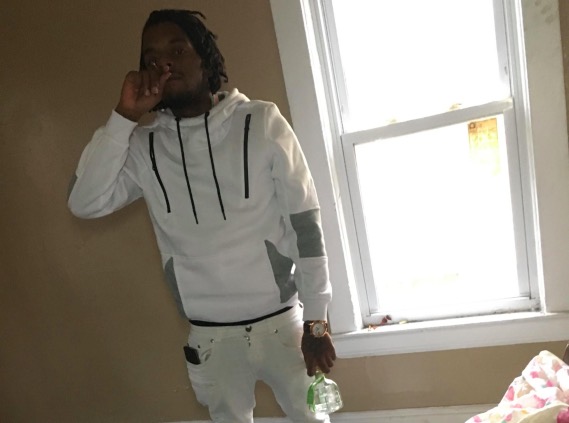 Most of us come into this world with nothing to prove. Over the course of our lives things fall into shape and bam! We push ourselves in ways we never imagined.
JayR Da Shootah has become the personification of the grind as he's worked endlessly to prove to all those who doubted him that he could indeed to it.
He showcased that poignantly in "Hello." A single that was not only his introduction to the world, but a proclamation that he'd arrived.
Influenced by Lil Wayne's array of beats and the hustler that is Gucci Mane, JayR Da Shootah has built a sound for himself that is one part emcee, two parts businessman.
He's a self-proclaimed workaholic that doesn't quit when times get tough. Those times only drive him to work harder.
That hard work is what led him to being recognized by DJ Steph Floss, and playing SXSW a few years back. Since then he's toured the Midwest, including his recent 2017 summer run throughout Ohio.
1) Do you remember the moment you wanted to be a hip-hop artist?
Yeah the moment I knew I wanted to be a hip hop artist I was 12 watching my uncle recording In the studio henhad in the basement with his crew made me wanna start rapping I knew I wanted to be a artist since middle of high school.
2) What was it like creating your latest project?
It Feel Good Like A Feeling I Ain't Feel In A long Time Like This Is What You Made To Do Feeling Like I'm Really On go Wit It.
3) What are you trying to achieve with the project?
With This Project Right I'm Trying To Reach Success I'm trying to have every club rocking too it every radio station getting request for it a Takeover.
4) What are your thoughts on staying independent or signing to a major label?
I always wanted to go major it's like you there you good but watching dolph gucci couple other indie artist that had great success it make u say stay indie get all your money learn the business yourself and get the bag right.
5) How do you feel about the independent hip-hop industry right now?
I'm loving it I like everybody grind and work ethic some might no be more lyrical but they working I Just don't like The Auto Indie It's So Watered Down And Copied a lot.
6) As an independent hip-hop artist grinding it out, what sort of promotion and marketing are you doing to stand out from the rest?
I Stand Out By the Rest Already just Me Being Me And Who I Am But I'm Constantly Hitting Up Djs Looking for the right moves to make every move not a good move u got just pick it right and if I tell y'all the info on that I won't stand out no more.
7) How do you currently make money as an independent artist?
The Job And The Streets We Ain't Gotta Go Into Details I'm Just A True Hustler.
8) How do you feel about hip-hop today?
I mean hip hop today ain't the same but shit it will never be the same if shit was the same mfs will get tired of it but it do need a change or a Shootah Baby.
9) What artists in the game today do you look at for inspiration?
No lie Gucci (big Guwop) And Future. They overcame so many obstacles and there life drama police baby mama drama they fought thru it and made it thru can't do nothing but Respect It and be inspired by them shit They OGs in the game now forreal
10) Who are your top 5 rappers dead or alive?
This not in any order but:
2Pac
Biggie
Jay Z
Juelz
DMX
Nas
Too Short
Eminem
50 Cent
Shootah