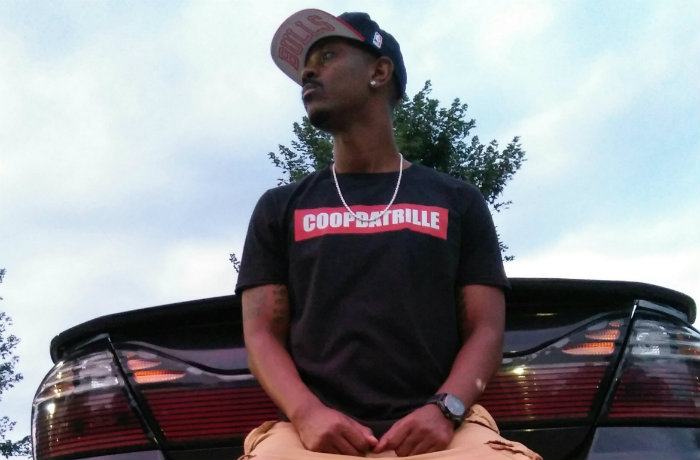 1) Tell us a little about yourself and your background.
I've always been a music head since I could remember. My mother listened to everything from "Rolls Royce" to "Whitney Houston" and my father listened to "Geto Boys" to "NWA" so I was always around music. I used to watch "The Box" video show all day and night and knew that one day I would see MY video on TV.
My dad used to take me to the studio with him to see him record and it inspired me to write because he made it look possible. I recorded my first song when I was 12,and was addicted ever since.
2) Who were some of your musical influences coming up?
I grew up to Bone thugs n harmony 2pac outkast ice cube dmx scarface the whole gangsta era but by watching The Box, it introduced me to different genres so I would listen to Damien Marley or Korn. I just have a variety of influences.
3) How would you describe yourself as an artist? Has your style changed much over the years?
I'm a passionate artist who talks about everything from the Block to Business. I make reality/emotion based music.
My style has definitely evolved because I used to be a metaphorical rapper but I'm more of a story teller now. I've been through a lot so I share my experiences in my music.
4) What's your process like for making music? Do you have a set routine or does it vary track by track?
My usual routine is I listen to the beat and come with a topic and write from there. But it depends on the mood. Sometimes I can sit and write something on the spot if I'm feeling it.
Other times I might just listen to a beat for a few days and build on it. But I write better when Im going through something and I have to get it off my chest.
5) Can you run me through the making of your latest project? Where were the studio vibes like?
With this project its was mainly me and my engineer in the studio just talking about music and vibing out to the beats.
I like the vibe to be comfortable and chill. That way we can just bounce ideas off of each other and take the songs to another level. I'm very hands on so if its a sound effect or anything I want to make sure it makes sense.
6) What sort of independent hip-hop promotion and marketing are you doing to differentiate yourself from other artists?
I try to be as innovative as possible. I have shirts that say "COOP WAS HERE" to let people know who I am. And I have credit card styled business cards with my contact information on the back.
I'm a self made brand and I approach everything with professionalism. This is the music "business" and I am fully aware of it.
Not only do I promote online but I also physically network with people. There's not alot of artists around my way who do street promotion so I try to fill that void.
7) What are you thoughts on the current state of hip-hop music today?
I think hip hop is in a good space because it has a variety Of lanes. From Trap to the Turn Up to Conscience to reality rap.
It just depends on the person. We have so much to choose from. Plus hip hop is the most popular genre right now. People thought it was a fad and now 30+ years later its still here and its all over the world.
8) What music are you listening to these days? Anyone in hip-hop really blowing your mind?
I like Nipsey Hussle. I just like everything he stands for. Kevin gates is a great artist to me. I like that he's a storyteller and melodic. Kendrick because that "control" verse still gives me chills. ASAP Rocky is always coming different.
9) If you could work with any artist you wanted, what would be your dream collaboration?
I would like to collaborate with Nipsey hussle. Dr.Dre, ice cube, snoop, krayzie bone, the weeknd, Miguel some of everybody really. From the OG's to present.
10) What has been the best moment in your music career so far?
Going to Rico Love's Music Conference. It was very informative and I met a lot of great people.
I met Bryan Michael Cox, Manager Byron Trice, and connected with a lot of talented artists, producers, and mangers. It felt good to be around like minded individual's and Rico Love was down to earth and an excellent teacher.
11) So what's next for you?
Releasing an upcoming ep coming soon. And me and a couple of my colleagues from the music conference have some projects on the way.
I'm gonna continue to build my brand and drop good quality music to raise the bar and motivate the masses.