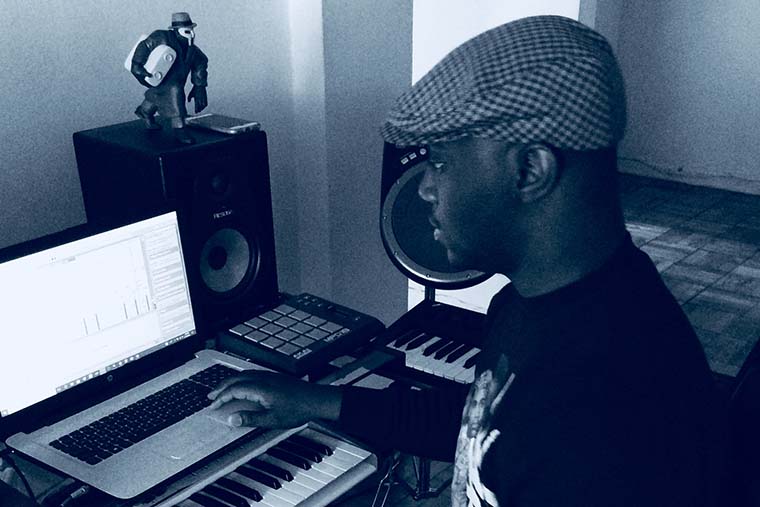 Artist Bio: Complx Baysixx is a producer/beatmaker from Queens, only minutes away from where James Brown, Billie Holiday and Count Basie once resided, and was also home to such local hip hop legends as Run DMC, LL Cool J, A Tribe Called Quest.
He learned the piano at the age of five, and that is where his love for music grew. His father was a very avid jazz fan, so growing up he was exposed to all of the music in his collection: from Miles Davis, Herbie Hancock to Stanley Clarke, the Weather Report, Najee, Earl Klugh and so on.
As he got older and started to get more into hip hop music, he noticed the unique ways that some of the songs that he grew up hearing his father play were sampled and flipped into some of the most beautifully composed hip hop masterpieces.
He comments: "I was amazed at how Q-Tip turned Jimmy McGriff's "Green Dolphin Street" into the instrumental for Tribe's "Jazz (We've Got)" or how Pete Rock turned Tom Scott's "Today" into "T.R.O.Y.", or how J Dilla flipped Herbie Hancock's "Come Running to Me" to make the instrumental for Slum Village's "Get Dis Money", (I could go on for hours).
It amazed me how a lot of the songs that I grew up hearing my dad playing on long car rides were used to create a whole new fresh-sounding piece of art."
It was then that he realized that he wanted to take a hands-on approach and try to make beats of his own. Eventually he learned how to play the trumpet and bass guitar. But at the core of it all, was his love for sampling.
When making music, he always sought to channel the music that he grew up listening to in order to make something new, fresh and while keeping a foot in the past, keeping it current and making it uniquely his own.
1) Talk to me about the making of your latest project. What was the inspiration behind it?
"Sounds and Colors In Stereo" was inspired greatly by my love for the classic hip hop sounds of the 90s: The filtered basslines, the jazzy melodies, the grainy lo-fi audio textures, the quirky, obscure vocal samples, and just sampling in general.
The opening track "ArtOrCrime? (Fab 5 Freddy Joint)" sums it up perfectly. Many people don't necessarily consider sampling to be an art form, they are quick to shoot it down as uncreative and "lazy". But they fail to understand how much work it takes to find a perfect loop, chop a sample and to create an entirely new body of work from pre-existing material.
It reminds me a lot of how people misunderstood graffiti art. While some so-called "graffiti artists" do nothing more than deface and vandalize property, there are many of these murals are really visually stunning displays of artistry.
Similarly, while are some that are content with taking large portions of well known records and looping it, you have producers like J Dilla or a Madlib, who were very creative and forward-thinking when they used samples, and they have created what many consider to be classic works of art.
That's why I used the Fab Five Freddy vocal sample on that track. The parallels between graffiti artists and producers who sample are one in the same. They are both integral parts of hip hop culture, and they are both still very much misunderstood and underappreciated.
So, I intended to make the samples the star of the show on this project and many other projects that I work on. While it's a beat tape, I didn't want the instrumentals to become dull or too repetitive, so I kept the tracks short added a lot of different textures and sounds to keep things interesting. This is the set-up project though, I have a lot more on the way.
2) With the music industry tanking and record sales falling, how do you currently make money as an independent hip-hop artist?
I am currently employed full time. Old fashioned 9-5.
3) From a business point of view, which artists in the game do you think are really pushing the boundaries and changing it up?
Obviously, Chance is the poster child for going the independent route, but I really like what the Soulection crew is doing. I'm a huge fan of theirs. Their whole movement is really remarkable.
What Joe Kay is doing in handling duties as the radio show host, handling their roster of producers and artists, touring, selling merchandise, their branding etc. it's mind-blowing to think that they are doing this all as a team without the backing of a major label.
Because of their presence, they are a globally-recognized, well-respected brand. Their business model and work ethic is unmatched in my opinion. Not mention they are keeping good music alive and well.
4) What business lessons have you learnt from the music industry so far?
READ, READ, READ! Read everything, understand what you are getting into before putting a pen to paper and signing your life away.
5) What do you love about hip-hop music?
I love the feeling that you get when you hear a hip-hop song that moves you, that gives you goosebumps when you hear it.
From the skilled lyrical craftsmen, to the creativity of the producers that provide the sonically stirring musical elements that make a beautiful, head-nodding masterpiece, there is literally nothing like it. I love many other genres of music, but when hip-hop is done right, and done tastefully, it's such a unique sound.
6) What still surprises you about hip-hop?
What amazes me is the diversity, the variety of sounds and sub-genres within hip hop. There's a lane for everyone. It may not seem like that especially because the radio doesn't always give you a full, accurate picture of the culture as a whole, but there is really truly something for everybody, and there is a lane for all of it to co-exist in the same space.
7) If you had the power to change one thing about the hip-hop industry to help independent artists – what would it be?
Less interference from record labels, and just letting the artists make art. DJ Jazzy Jeff has provided a nice example this with the PLAYList retreat that he's been hosting over the last few years.
I don't know if many people are familiar with the last project that they put out with Glenn Lewis, but they recorded an amazing piece of work in only 7 days. No label interference, just producers, MCs, vocalists in a creative zone and they had full artistic control and freedom to make the art that they wanted to make.
It just showed the endless possibilities without someone standing in the way of creativity.
8) Who do you think are top 3 producers doing it at the moment?
I can't answer this question without rattling off a bunch of names because it's hard to pick just 3. If we're talking production legends you have guys like Dilla, Pete Rock, Q-Tip, Large Profesor, DJ Premier, Madlib, Timbaland, Pharrell, among many others (I can literally go on for days about this topic if you can't tell).
But My 3 favorite producers of the moment are:
1) Terrace Martin-his work with Kendrick is incredible, not to mention his own solo projects. I got a chance to see him perform live with Herbie Hancock, and that was one of the best concerts I've ever been to.
2) KAYTRANADA I love how he blends so many musical styles from House, boom bap hip hop, R&B, Chill electronica. I always check for his music whenever he drops something.
Finally 3) knxwledge. The way he chops samples and creates such wonky sounding lo-fi beats is incredible. Huge fan. As an honorable mention, I really dig Stro Elliott, he is NASTY with the finger drumming, and I really like what Cookin Soul is doing too. I know I only have 3, but had to throw them in there.
9) So what are your plans for the future?
I plan to keep honing my craft and improving, enjoying making music, exploring and experimenting with new sonic territories, and continuing to have my music reach whoever wants to listen.