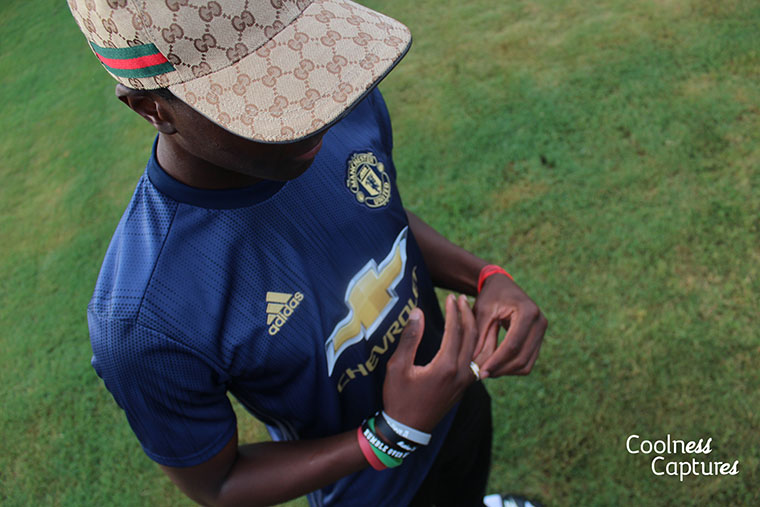 Artist bio: Byronnnn, Byron Ford is young singer who can bounce back and forth from R&B to Hip-Hop. After building most of the anticipation for his music during high school at Smiths Station, Byron was featured on a father-son release with JF3 which gave him a head start into the industry.
Life was fun for Byron growing up and is fun now. He is sure to let people know about Hidden Creek, the coolest neighborhood in Smiths Station, and is big on family and his people which is why he keeps everyone involved with all the different things that go on in his life.
Music has always been a passion of Byron's and he singing is a big part of him as an artist. Byron has released a few singles as well as a featured mixtape Singer Bars which shows the hip-hop/rap side of him.
Now well into the game Byron has started his own label Coolness Music/Coolness Records which is a division of Coolness LLC, his new EP "Let Me Show You Then" which was released on December 15th, is the first project officially released under Coolness.
The Coolness brand is spreading and is a big part of his artist image. We fully expect this young and versatile artist to make a big impact in the music industry.
1) What inspired you to be a part of the music industry?
Music itself inspired me. I have always had a passion for music and especially singing. Hearing myself singing along with the radio or with whatever I'm listening to on my iPod or phone inspired me.
The fact that I can record my own music and other people can hear it is inspiring to me. Seeing other people succeed and build themselves with music and talk about how they came up in interviews is something that is cool to me and inspiring, and being a businessman, the business part of music is also something I enjoy
2) Talk to me about the making of your latest project. What was the inspiration behind it?
The inspiration for me was self growth. I knew that I was putting out music that people liked because they would tell me but I would say to my self that I can do way better, I like when people are proud of me and I like the thought of people being proud of me, and everytime I record I get better and better in every area.
My new project will be coming out at some point and I listen to it all the time, but right now the next thing to come out is the single which will be on that project. I know that this single is a hit and I've been waiting on it to drop just like everyone else.
3) What was the process behind making the project?
The process was quite simple. I think I wrote just about every lyric down, sometimes I may freestyle some lyrics along with the adlibs but for this project I wrote just about every lyric down with my pen. I had all of the beats already before I recorded so I already knew exactly what I was going to do while I was in the studio. I wrote the songs outside of the studio while just listening to beats.
There is one song on the upcoming project that I did with A1 Juu and A1 Fat that I didn't write anything, we pulled up the beat and just got to it and recorded at A1 Juu's house. Three different locations were used for parts of the project.
4) What are your thoughts on the hip-hop industry at the moment?
Hip-hop is hip-hop and people want to be involved and it's easier to be involved now. The music industry as a whole appears to be a little different because of progressiveness which should be a good thing but sometimes mistakes are made and everyone doesn't go in the right direction at first which can make that progressiveness appear to be a negative thing.
Being more of an R&b person though, I just enjoy all kind of good music. As an artist I can do many things, I can do R&B and hip-hop, signing is what I love the most and I can use that with hip-hop and R&B. I think the music industry as a whole is wide open and if you want to get in and contribute it's right there for you.
5) Do you enjoy grinding it out independently or would you prefer to be signed to a major label?
I actually started my own label and signed myself(Coolness Music/Coolness Records). I do enjoy working progressively with others so I'll work with another major label and if business is right deals can be made but I like controlling everything with my music and business because I know exactly what's going on.
I set up the marketing/promo and the distribution. I don't really set my release dates though, God does that, I walk in faith everyday. Sometimes I may have a request for a specific release date but if he says that date isn't it then that's not the date.
I enjoy working on everything and grinding it out though. Whatever the situation is I'll enjoy because I'll always look at things in a positive way
6) What do you think goes into building a loyal fanbase?
I think being real is respected and people like authenticity, so as long as you are respectable and people will listen to your music and support your brand as a whole then that will turn into a loyal fan base.
Being righteous and happy will make people want to be around you and involves with you in some way so as long as you're doing the right things you'll attract the right people.
Even when you attract some people that are different that's good because you can show them yourself and introduce them to something different and maybe that's what they need
7) What sort of online promo and marketing are you doing to reach your fanbase?
Social media is big and I definitely use it. I work with different promo/marketing companies and may use other kinds of services sometimes. I really just pay attention to what people want to see and people like numbers and streaming.
I focus on different streaming services and things like Instagram and Twitter to attract different people. The radio is also something that can help with promotion
8) As an indie artist, how do you brand yourself and your music to stand out from the rest of the artists out there?
Branding is important and Coolness is a big part of my branding. Everyone knows that I'm myself and how I live my life and people respect that and respectability is a big part of branding as well.
Specifically in my music you won't hear profanity because that's how I actually am, not only do I not use it in my music but I don't use profanity at all. That's something that is obviously different and stands out and it's not something that is forced because it's something that I don't do anyway.
9) How do you currently make a living as an independent hip-hop artist? What sort of income streams do you have?
Streaming as far as the music goes and and other business moves are important for me. My business has different divisions but it's still all one business so everything from those different sources comes back to one place and keeping multiple sources of income is important.