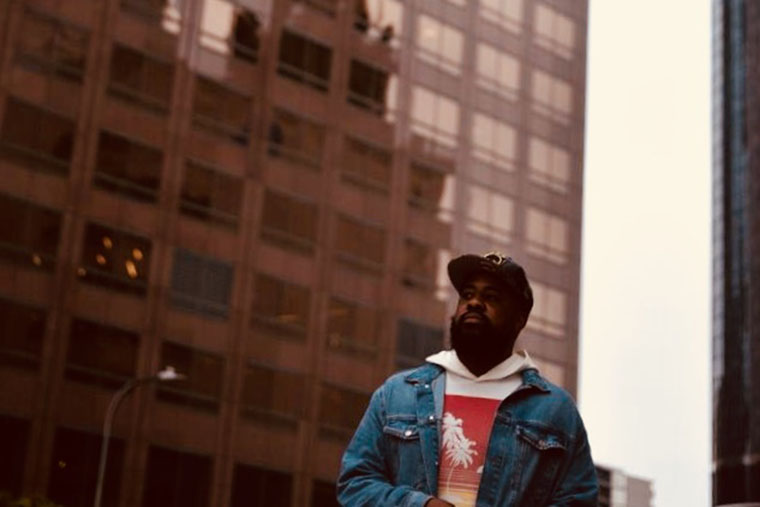 Artist Bio: Originally from Fayetteville,North Carolina , as a kid Anwar Bryce moved around a lot which he credits for his different styles musically. Attending jr high in Germany, then high school in the Richmond, Virginia area then attending Norfolk State University in the tidewater area and lastly relocating to the DC area shortly afterwards.
He credits Washington DC as his second home primarily because that's where his music career jump started as both an artist and the co-founder of his independent music label with Washington DC native and globally recognized illustrator Artist Jai.
Anwar Bryce first received a buzz based off a song he wrote for an artist he wanted to sign that eventually he recorded called "coming back to u" which landed him in the indie grind section of the magazine hip hop weekly magazine.
After stepping away for 2 years citing mental fatigue and depression following the unexpected passing of his brother, he's set to release his third project and second full-length album called "Welcome Back". Known for his rapid-fire delivery, catchy hooks and vivid story telling, Anwar Bryce is one of the most all-around talented artist in hip-hop.
1) Talk to me about the making of your latest project. What was the inspiration behind it?
The inspiration behind the album honestly was more or less moving past the period of time that held me back from continuing what I was accomplishing prior. I'd went through a point where personal situations impacted me mentally and spiritually and my head just wasn't 100% into making music.
I just had to remind myself of something one of my old heads (Louis Mills) told me one time. He said "when things get hard you either gonna quit or you gonna adjust and overcome and I can tell you ain't no quitter."
2) With the music industry tanking and record sales falling, how do you currently make money as an independent hip-hop artist?
You have to pick your spots and always have a hustler mentality. Keep multiple revenue streams and maintain important relationships that can provide you with opportunities outside of album sales or streams.
Songwriting is a major revenue stream and also just owning your own rights to your music and owning your own company (Nulogik Music Entertainment Group LLC) such as me there's always gonna be options.
3) From a business point of view, which artists in the game do you think are really pushing the boundaries and changing it up?
Business? I always give Jay-Z credit because as an artist I think he was the first one I saw really show you how to level up beyond just being an artist. Nipsey,I give a lot of credit as well.
I think he really cracked the code. I love and I'm inspired by what he's out here doing. Drake has done a lot to and I don't think he gets a lot of credit for what he's out here doing in business.
4) What business lessons have you learnt from the music industry so far?
Own yourself so nobody has the option to own YOU.
5) What do you love about hip-hop music?
Freedom to express your truth unapologetically.
6) What still surprises you about hip-hop?
How the standards seem to fluctuate based off the impact of just one artist. When an artist blows up and he's conscious or creative that immediately becomes the new standards the executives chase and conversely, if an artist who has remedial lyrical ability blows then that becomes the new standard. It's amazing to watch as an artist.
7) If you had the power to change one thing about the hip-hop industry to help independent artists – what would it be?
Well I was raised to not just voice your displeasure about things but to also be the change that you seek. That's kind of what fuels my desire to push my independent label to what I believe can be it's peak point. I want independent artist to have an equal playing field as far as marketing and other resources.
There's so many dope artist that people know nothing of because mainstream media is going to grant maximum exposure to whoever they feel can return the favor. That's why I'm always gonna be supportive of Stop the Breaks because i feel like y'all genuinely want the genre to win but you also want talented artist to win regardless of if they're a big name or have a superstar co-sign.
I want artist to be able to tour as much as possible so they can legit eat off their craft. I plan to organize a huge independent tour possibly soon with other independent labels and travel across the country and when it becomes big enough internationally. Make it like one big thing strictly for independent artist.
8) Who do you think are top 3 rappers doing it at the moment?
Cole, Kendrick and Nipsey (but don't sleep on Wale I think he dropped a dope independent EP and now that's he's back with a major label I think he's gonna drop some real heat with his next project).
9) So what are your plans for the future?
I have the album "Welcome Back" dropping on my label June 5th and then 2 additional projects same day in August. Right after this "Welcome Back" album though, I'm gonna resume meetings/negotiation talks for possible joint venture deals.
That's the goal as a ceo and co-founder of my independent label while also trying to get that independent artist US tour going to help all the independent artist out there. If we're talking as an artist the goal for me is just to continue to grow artistically and in skill while pushing the culture forward past the counterproductive mindset.