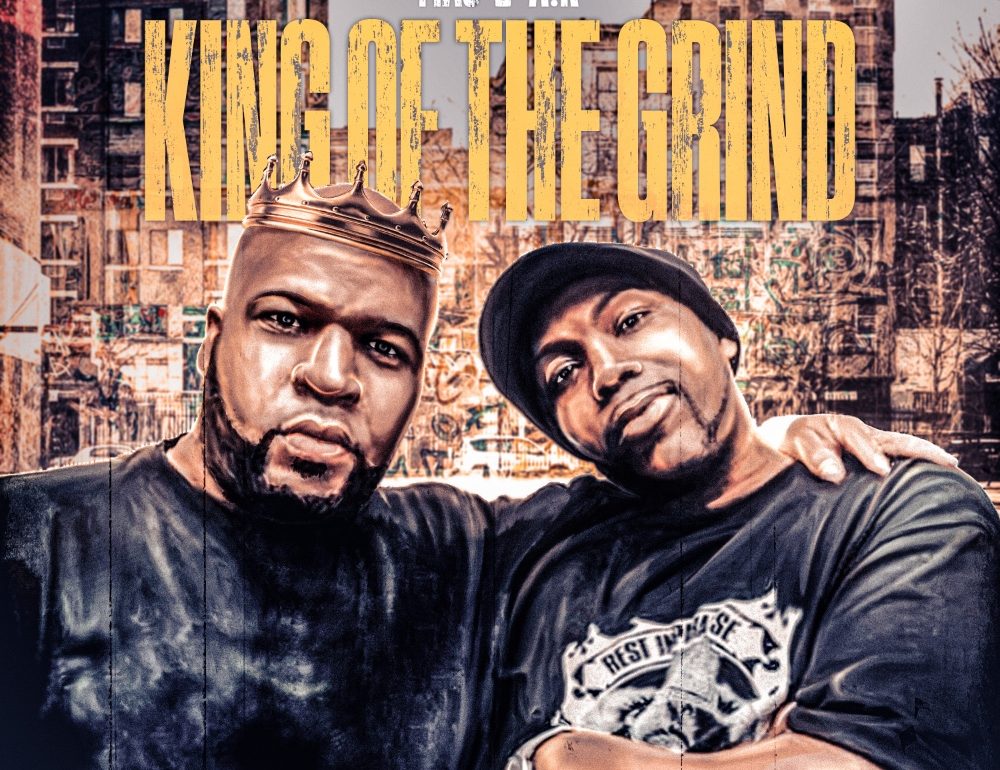 Mac & A.K. is group of consisting of fraternal twin brothers Eric "Mac Pacino" Gordon and Keith "A.K." Gordon, hailing from East Palo Alto California in the San Francisco Bay Area. The two honed their craft under the backdrop of living in East Palo Alto, which in 1992 was the murder capital of the United States. Eric "Mac Pacino" first started in a group called Black Jack, which released their acclaimed album "Streets 2 Da Grave" on Ichiban records. Mac Pacino decided to leave the group and formed Mac & A.K. with his brother.
The group would go on to sign with Tommy Boy Records based in New York, which at the time was a powerhouse on the hip hop seen with acts like Coolio, De La Soul, Naughty By Nature, and House of Pain. While on Tommy Boy Records, Mac & A.K. released their first EP Westbound: For Riders only on their imprint Streetlife Records. The 7 song EP was well received and they also received a gold plaque for their song Way 2 Saucy featuring Mac Mall also from the Bay Area. Unfortunately things did not workout at Tommy Boy and the group asked to be let out of their contract.
The group formed E&K Music Group and released Money Rhymes as their first release. Money Rhymes featured heavyweights like E-40, Mac Mall, Above The Law, and local legends like Chunk and Neva Legal. The second release was Hustle Music, which feature The Game, Young Noble from the Outlaws, Chunk, Sean T and other Bay Area Legends. The latest album was Legendary, which was also received with high regard.
Unfortunately Mac died in 2013 and A.K. is fully running the record label and releasing projects on E & K Music Group. The first release of the year was "Gasoline", which was well received. The newest single is "Don't Play With ME" FT King Cydal and Money $ Mont AKA Mr Fetti, which is makiing a lot of noise at the moment. Both singles will appear on the up and coming album "Only The Strong Survive. Only The Strong Survive will feature notable artists like Planet Asia, King Cydal, JT The Bigga Figga, M-Dash, Da Hoodstarz and many more.
1) Talk to me about the making of your latest project. What was the inspiration behind it?
The latest project "King Of The Grind" was a lot of blood, sweat, and tears. Mac & A.K. is a well known group from the Bay Area in Northern California. Mac & A.K. consists of fraternal twin brothers Eric and Keith Gordon. We were the first out of East Palo Alto be to signed to a major label in the late 90s. We put out an EP called Westbound – For Riders only in 97, which is a classic to this day.
We just pressed some vinyl for the same project, which sold out on the same day it came out. We left Tommy Boy, as we realized it was not a good fit, but we learned a lot about the industry. We earned a gold record for the song Way 2 Saucy FT Mac Mall (also a Bay Area legend), which was on the soundtrack for Nothing 2 Lose Soundtrack featuring Martin Lawrence and Tim Robbins. We left the Tommy Boy and took that knowledge and formed E and K Music Group, which is taking the first and letters of our first name (Keith and Eric). We are fraternal twins, so E and K Music Group fit us well.
The Bay Area is the king of the independent grind, so it was important for us to keep that energy and we released three albums. The first "Money Rhymes", which featured E-40, Above The Law, Mac Mall, and many greats from East Palo Alto. Next was "Hustle Music" which featured The Game, Young Noble from Tupac's Outlaws, Seant T, Chuck, Lil Ric and other Bay Area legends. Legendary was the last album, although not the last release. We chose to showcase our lyrical and beat abilities on that project and did not have many features. Unfortunately, Mac died in 2013 and we did not release any music until late 2021.
The first release Gasoline in December 2021, then "Don't Play With Me" FT King Cydal and Money $ Mont aka Mr Fetti in May 2022, and our most recent release "King of The Gind", which was released on 8-12-2022, which ironically is our birthday. Since Mac could not be here in the physical, I produced an animated video, which has a similar look and feel as the Grand Theft Auto video game. The song has live guitar, live drums, DJ scratching and we go hard with bars on this one. The full album Only The Strong Survive, will feature California heavyweights Planet Asia, Da HoodStars, Jet Black King Cydal and some other surprises. We will release this album later in the year.
2) With the music industry tanking and record sales falling, how do you currently make money as an independent hip-hop artist?
I make money via streams, ghostwriting, and our older catalogs, as we just put out a vinyl version of Westbound, which sold out the same day of it's release. There is a lot of interest in G-Funk music from the 90s, although our style and musical direction has changed, that is still the golden age of Westcoast hip hop and people are still buying it. So I cannot complain. I'm in talks to release some of our unreleased material as well.
3) From a business point of view, which artists in the game do you think are really pushing the boundaries and changing it up?
Well, I would like to say many of the bonafide legends like Nas, Black Thought, Jim Jones, E-40, Rick Ross Snoop etc are still pushing a hard line and keeping it fresh. I definitely like the releases from newer artists like J-Cole, Kendrick lamar, Conway The Machine and Grisela. I think Conway the Machine and Griselda are definitely putting out real hip hop and dope content and making it hard for emcees to just put out fumble raps and not put their heart and soul in their music, all the while keeping their business in order.
Just as an observer and standing on the outside, it is great to see real hip hop has not taken a back seat and is still profitable There are a lot of dope artists, so I don't want to say one is better or greater than the other. Just do good music and the fans will follow.
4) What business lessons have you learnt from the music industry so far?
I've learned most importantly to control your brand, own your masters, test the waters with promo and marketing, and stay 100% to who you are. Following the trends might result some radio spins and a buzz, but it will not build a long-lasting career. There can only be one original and God made you, and that's all you need.
5) What do you love about hip-hop music?
I love the energy, the vibe, the beats, the different levels and perspectives you get from artists worldwide. Hearing Rakim, Kool G Rap, and KRS1 change the entire flow of hip hop around the late 80s, and bringing that hardcore flow and swag. Then the gangsta Rap an G-Funk era with Dr Dr, Snoop, Spice 1, Richie Rich, E-40, Tupac, UGK, Scarface, Ice Cube, Above The law and the reality rap of the 90s.
Also, in that same era the more gritty artist like Wutang, Nas, Onyx, Biggie, Fat Joe and the heavyweights from the Eastcoast.Then in the 2000s changed up once more and you had more dance and club bangers ushered in from Bad Boy. I mean those were great times. Right now is also a good time and things have changed once again, but I think you had more original sounding artists back in the day. It was a mortal sign to sound like someone else and now that isn't the case. I'm not saying it's necessarily a bad thing, it's just a different time.
6) What still surprises you about hip-hop?
What surprises me is that we have not learned the lessons from the past deaths and homicides and artists are still repeating the same old stuff. I mean actually it has gotten worse with social media with people feeling they need to constant attention and validation. The only person that matters is you and not trying to get millions of likes and followers and going viral over some nonsense.
I understand it though because times have changed and social media and content rules more than the radio and historical outlets to promo as an artist. You have to build a brand and find a way to bring attention to yourself or you will get left outside. I just want to represent who I am and push a hard line from what I bring to the table, rather than just doing negative stuff for attention. That is definitely not me.
7) If you had the power to change one thing about the hip-hop industry to help independent artists – what would it be?
The one thing I would change are the gate keepers and people who make decisions behind the scenes and do not honor or respect hip hop music. Things have moved away from talent and hard work to being mostly about analytics. So you can make some stupid non-talent song and it goes viral and as long as you got the right views and likes you could get a deal and it's trash. I wished we could go back to having talent and artists getting signed not just on their business acumen, but they also had to be talented. So alot of trash is flooding the game because of these gate keepers who wield power.
8) Who do you think are the top 3 rappers doing it at the moment?
I would say from my perspective because I prefer pure talent over record sales. For me it's gotta be Conway The Machine, J-Cole, and Pusha T. What I like might not be the same as what other people care about. Likes and popularity don't mean anything to me as far as to what I listen to. I only care about dope beats and dope lyrics and content and nothing else.
9) So what are your plans for the future?
I plan to release one more single and then the first of a 3 part release of Only The Strong Survive towards the end of the year.