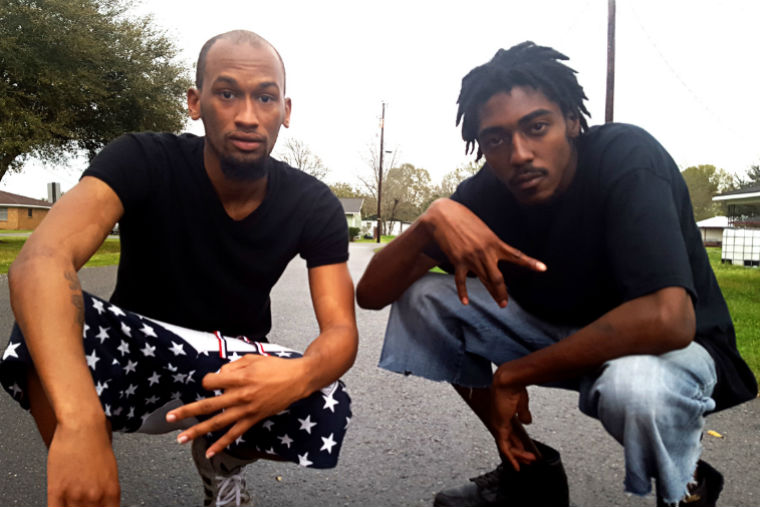 Nuk Da Kidd: Born Dominique George on July 13, 1993 in Mamou, LA and grew up in Ville Platte, LA. He started to do music to make a better life for his mother. He continues to pursue his career in music because he fell in in love with it.
His inspiration to continue pushing his music is life itself. When he was 14 years old he recorded his first song and knew he wanted to make a career from that moment.
D-Zo: Born Dominique Durgin on January 3, 1994 in Ville Platte, LA. He started doing music when he was 11 years old because he was inspired by his older cousin who spit rhymes to him and showed him lyrics since he was a kid.
Since then he has grown a passion for music and he said "he loves how music can make a person feel". He knew he wanted to make a career in music since he was 14. He stated that the sound he is trying to bring is just real life.
1) Talk to me about the making of your latest project – Road 2 Success. What was the inspiration behind it?
The making of Road 2 Success had its ups and downs. Some of the ups were building our own studio from nothing. We also recorded, mixed, and mastered all the songs on our mixtape.
Some of the downs were that we had lost some studio equipment while trying to finish up our mixtape, and that had slowed up the process of completion.
The inspiration behind Road 2 Success was that we are going through the struggle and trying to better our lives and take care of our family.
2) With the music industry tanking and record sales falling, how do you currently make money as an independent hip-hop artist?
To be honest, at the moment we are currently not seeing any profit from our music.
3) From a business point of view, which artists in the game do you think are really pushing the boundaries and changing it up?
Chance The Rapper, Kevin Gates, & J Cole.
4) What business lessons have you learnt from the music industry so far?
Some business lessons we have learned so far is that we have to stay consistent with releasing music to our followers and fans. Second you have to have the right connections to invest in for promotion.
5) What do you love about hip-hop music?
We love how hip-hop music can make someone feel.
6) What still surprises you about hip-hop?
What still surprises us is how the game has grown and still is growing.
7) If you had the power to change one thing about the hip-hop industry to help independent artists – what would it be?
As far as now there's nothing we want to change about it.
8) Who do you think are top 3 rappers doing it at the moment?
Kendrick Lamar.
9) So what are your plans for the future?
To be successful in the music industry.