Houston rapper Anti-Lilly recently dropped his project 91 Regal via Bandcamp for all the fans of that smooth, jazzy underground hip-hop.
Featuring production from longtime collaborator, Portland, Maine producer Phoniks, G. Cal, and Tommy Blunts; 91 Regal is all about Anti-Lilly baring his soul and speaking on the 23-years of his life.
After having the pleasure of interviewing Phoniks last month about his craft, Stop The Breaks had the opportunity of interviewing Anti-Lilly about his musical influences, working with Phoniks, creating 91 Regal, building his independent movement and more.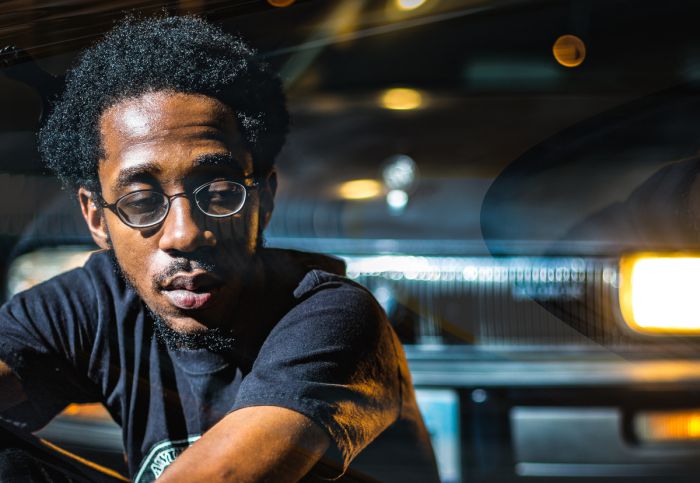 1) So you're from Houston, Texas. Talk to me about your background, growing up in Texas and some of your musical influences in the early days.
I'm from the east side of Houston, I don't think it was much different from any other neighborhood growing up. I was one of the youngest on my block but I gravitated the the older kids early and for that I thought I was smarter than I actually was.
I mean I learned some pretty cool things but most of that shit I should have probably had no business being near. Eventually I found myself though. As far as musical influences my folks are pretty musically inclined. My parents loved The Isley Brothers, Marvin Gaye, Johnnie Taylor; you know all the old school cats. My big sister loved Lil Wayne, T.I., Kanye. Shit my older cousins was on all the classic Houston shit, S.U.C. Click, UGK, Scarface.
I was in band fora few years in school and I fell in love with Jazz and Classical Music. Around 8-9th grade is when I got hip to Hov, Nas, Common, A Tribe Called Quest and a ton of other dope artist. I'd say that's when I musically started coming into my own, I sort of take a little from everyone and make it my own.
2) How would you describe yourself as an artist? Has your style changed much over the years?
Really I'm just myself, I don't really go into the booth with a bunch of ideas and concepts. Through the years recording songs has been my release therapy that i'm absolutely addicted to. As I've grown through the years so has my music. Hopefully I can keep improving in other areas and become more well rounded.
3) You and Phoniks have amazing chemistry in the studio, you guys even recorded an album together – Stories From The Brass Section. How did you relationship develop and what's your routine for working with him?
Thanks alot man yea Phoniks is a real problem that's for sure. I don't know man the chemistry is really natural, Phoniks actually reached out to me after I dropped my project Memoirs & The 90's a few years back. We had both been mentioned in an article about dope up and coming artists (He and Awon had just released their Golden Era album).
I was hooked when I heard his first track, at first it was just some back and forth but after we put a few crazy joints together it was only right to do a project. Phoniks has been a true life saver man, he also does my mixes from time to time. He usually sends me a care package and I knock it out, I'll try to pitch a few ideas from time to time. That's my brother for life though.
4) Congratulations on dropping 91 Regal. It's a dope project and I really enjoyed listening to it. Talk to me about the project and what went into making it.
First off I thank you for listening and I'm glad to know you enjoyed it my man. It's really just a culmination of my short 23 years on this Earth, the good,bad,ugly,and beautiful. It's a testament to no matter what cards you have being able to play them out.
Being able to grow from every experience, The 91 Regal was actually my very first car, I got it on my own so it meant a lot haha. This is probably my darkest project in terms of the sound, but It came from a dark place. However the fact still remains that you need to go through that shit to become a better person.
5) As an independent hip-hop artist you obviously have to do a lot more on your own with fewer resources. What are some of the challenges you face and how do you motivate yourself to keep grinding?
It's easy to stay motivated, I know that God has blessed me with a gift to change lives for the better so I just have to stay consistent. Some of the challenges are just having to deal with some of the politics in my city.
I'm not really into all that stuff so I'm building everything up organically by throwing my own shows and events. The music speaks for itself I know my people can relate to it I just have to get it out there. It's a marathon not a sprint so I just gotta stay focused.
6) What goes into building a fanbase for an independent artist? How do you promote your music and build your brand?
I think that the people just have to see a piece of themselves in the artist. I make lifestyle music so when folks check me out its easy for them to relate to me for the most part.
Everything I do is based on honesty, that's what they appreciate about me is that i'm just a regular ass human man. I know my sound so its gonna target whoever its made for.
7) Let's say you could pick 3 artists to work with – one producing, one on the hook and one rapping with you – who would the 3 be?
Haha that's a great question bro let me think. As far as production I'd go with J Dilla, everything he did was so damn smooth. I would freestyle to all of his instrumentals and use them on my early mixtapes when I was in grade school. I would have been great to work with him while he was still here. God bless his family.
I've been wanting a hook from Devin The Dude for the longest. Hopefully I can put that together soon, he's a legend in my city and a personal inspiration. I think if we had a studio session we could really make some beautiful shit (and get super high).
8) What would you say has been the best moment in your music career so far?
My career feels like it's barely started, so far I would say a few months ago I was buying some cigars at a gas station and a group of kids recognized me from the music. That shit was cool, I'd also say back when I dropped Memoirs and I got posted on XXL and a few sites that I would check myself as a Hip-Hop fan.
9) So what's next for you?
Only God knows to be honest, until then ima keep pushing this music till I cant anymore. This is really my dream and I appreciate every opportunity that I get. With that said I wanted to thank you for the opportunity to get myself out there, great questions bro. I'm working on a new project now but in the meantime ima take 91 Regal as far as I can.