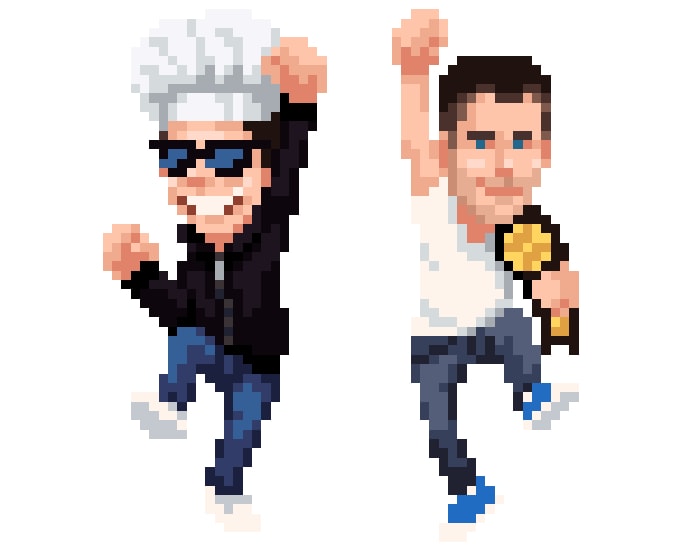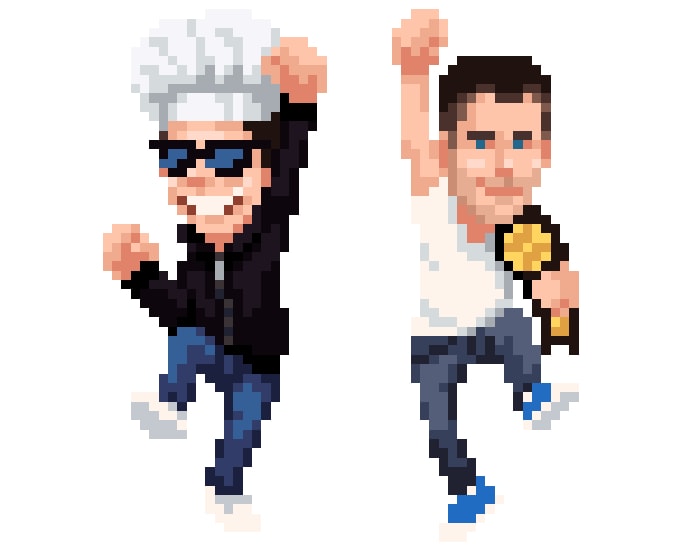 1) Tell us a little about yourself and your background. 
We come from Chicago, Illinois and currently work together. We didn't even realize that we both worked on music until several years ago when we got the idea to collaborate. DJ Swedish Chef (Tony) used to write lyrics, rap, and record a lot and put out a bunch of EPs with his friends which eventually led to venturing into the EDM scene and exploring new and different outlets.
Lokus (Matt) wrote countless lyrics, rapped on many different albums, and worked with a ton of labels and artists. After we found out that we both had similar backgrounds and enjoyed a lot of the same artists and music, we decided that with DJ Swedish Chef having been rapping, DJing, and producing for several years and Lokus having rapped for many years and working with lots of different people, putting the two sounds together would be a blast and fun to do.
2) Who were some of your musical influences coming up?
In the Hip-Hop category, DJ Swedish Chef always enjoyed Kanye West, 50 Cent, Ludacris, and Eminem, just to name a few, and their speedy, creative, and energetic lyrics which played a huge influence in getting into rapping. In terms of EDM, names such as Skrillex, Flosstradamus, Datsik, Virtual Riot, and Krimer come to mind when speaking of production and DJing influences.
I (Lokus) have always enjoyed multiple genres of music and can find creativity and influence from just about anywhere. Leaning towards hip-hop/rap, just to name a few artists, Atmosphere, Tech N9ne, Bone Thugs, and even I.C.P. I do enjoy a different collection of music from deep intellectual lyrics and even more goofy or comedic sounds.
3) How would you describe yourself as an artist? Has your style changed much over the years?
I would describe myself (DJ Swedish Chef) as a Hip-Hop artist turned EDM DJ/Producer. I started off as a primary listener of Hip-Hop until I went to college, got introduced to EDM, DJ'ed a venue and house parties, and eventually branched out into many different Electronic genres and started producing my own stuff.
I still love Hip-Hop and enjoy incorporating it in my Electronic music especially the hard-hitting bass lines. All-in-all, my style has changed significantly in the past 8 years from Hip-Hop to Dubstep and Trap music.
I would say I (Lokus) am someone who really tries to put a lot of thought and effort into everything I do. I like to incorporate different aspects of music into my lyrics. Whether it be thoughtful rhymes, comedic value, or stringing words together that flow nicely, I like to try and make my style noticeable.
Over the years, as I previous mentioned, I take a lot more time and thought into lyrics and the process for creating a song. I want to make sure if I'm on a song with multiple people that I stand out.
4) What's your process like for making music? Do you have a set routine or does it vary track by track?
There are very few similar processes for making music in my (DJ Swedish Chef) eyes. My routine is always different and changing for my personal stuff and especially for the project Lokus and I completed.
We worked together pretty intricately to get the sounds we wanted down pat and how we wanted them and both learned a lot of new things about one another and music in general.
5) Can you run me through the making of your latest project? Where were the studio vibes like?
Great question! It started off a very slow and detailed process in the beginning and eventually turned into a party by the end of the project and in a great way! Getting the lyrics and beats put together was so difficult but exciting at the same time and no two tracks did we do were even remotely the same.
I (DJ Swedish Chef) remember working on the track, Party! Party! Party! one night and having several brews with Lokus and getting some of the greatest lyrics and recording outtakes on a track I have ever gotten in my life!
It was so hilarious and and actually helped in making that track so much more livid and making you feel like you were living it! When you think about it, we created lots of new sounds together, brought out new ideas and had so many good times when we worked together in the studio AKA the apartment J Good times!!!
6) What sort of independent hip-hop promotion and marketing are you doing to differentiate yourself from other artists?
Since this project is more of a hobby for the both of us and we extremely enjoy doing our own thing without too many hard guidelines, we differentiate ourselves by actually being different through our Electronic/Hip-Hop sound and lyrics and finding others who enjoy our music as much as we do and promote it with that same drive and passion.
7) What are your thoughts on the current state of hip-hop music today?
Personally, it does not seem like what it used to be and it seems like it is lacking something to make it popular and edgy again. That's another reason why I love Electronic music so much more than Hip-Hop now since there are so many different genres and sounds that come from the EDM scene and it is always changing and evolving.
I think I mentioned it before, but I really don't listen to a lot of newer artists. I may be stuck in my ways, but I prefer the stuff that was hot when I was growing up. Nothing against anybody, I just really haven't given time to get caught up on the newer stuff. Plus there is so much content out there now-a-days, it almost seems overwhelming on where to look.
8) What music are you listening to these days? Anyone in hip-hop really blowing your mind?
Mainly, I (DJ Swedish Chef) am listening to Dubstep and Trap from Zomboy, Krimer, UZ, 12th Planet, and Borgore. Artists like The Weeknd keep surprising me with new and interesting ways of making Hip-Hop jump again.
That could be what is getting everyone interested again like collaborating with Daft Punk and making some pretty catchy tunes through expanding to different genres and artists with different perspectives. Borgore is doing that same thing but flipped by using Hip-Hop artists like Juicy J in his Dubstep and Trap tracks and he has some really awesome bangers.
I (Lokus) still listen to a lot of the classics, as Bone Thugs – East 99 still gets a lot of play. I do enjoy most material I've heard from Yelawolf and Rittz and feel like their style is great. As I mentioned before, I do listen to a lot of not-so-new stuff, like older Twiztid, Tech N9ne, and even Eminem and I will always have a soft spot for that late 90s-early 00s Hip-Hop/R&B!
9) If you could work with any artist you wanted, what would be your dream collaboration?
I (DJ Swedish Chef) would love to work with Skrillex. He is an idol of mine and a collaboration with him would be a dream come true. He has so many intriguing and diverse tracks and ideas and he continues to try new things and evolve music in our culture.
I think it would be fun and exciting to meet him and explore music to come up with something new and defining and be able to say that Skrillex and I were able to do that together.
I (Lokus) think that working together with Atmosphere would be phenomenal. The lyrics that Slug comes up with are ridiculous at times but in a good way. It seems he can just take ordinary everyday tasks and make a song about them. I would love to work with his creative process and maybe learn a thing or two.
10) What has been the best moment in your music career so far?
After working so hard and for such a long time on this EP, being able to release it and get it out to the world to hear has been unforgettably incredible. It has been quite the journey and process getting this out there and now we are finally able to say, we did it!
11) So what's next for you?
Swedish Chef and Lokus are going to continue working together in producing beats, writing lyrics and coming up with fresh and outstanding tracks. We have some beats in the works and ideas brewing but need to sit down and finalize our thoughts over some food and drinks to get the creative juices flowing once again!
This is just the beginning for DJ Swedish Chef and Lokus and the only way to go from here is the top!