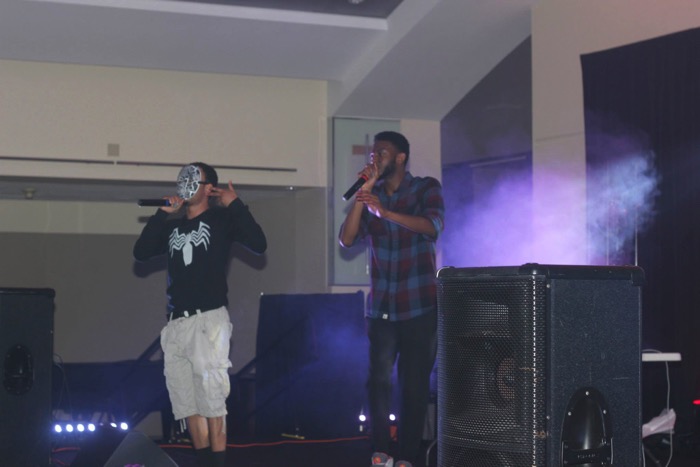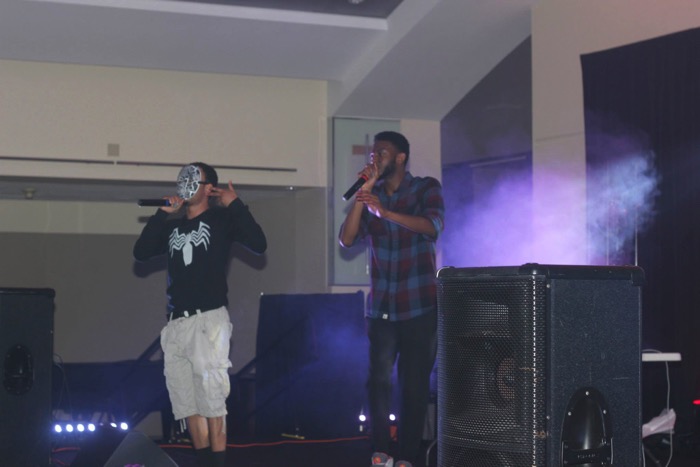 1) What inspired you to be a part of the music industry?

Apollo: I just got addicted to the process of music creation. I started to have so much fun with it that I decided to share it with other people. And then I realized the power behind music, so I wanted make something transcendent and generational.
dJ Ghost: I just wanted to make beats like Kanye and J Dilla. At one point I almost quit, but I didn't because people actually started liking my beats and wanted to rap over them. So I kept at it.
2) Talk to me about the making of your latest project – The Middle. What was the inspiration behind it?

dJ Ghost: The main inspiration behind the album and the concept in general is Madvillain. If there is a mad villain in hip-hop, shouldn't there be a superHero? Superhero films of today and interestingly enough Quentin Tarantino films also inspire it.
Apollo: That's a Ghost question. I was just there.

3) What was the process behind making the project?

Apollo: So Ghost presented me with the idea of album, full tracklist and everything. I was immediately on board. It really kicked off when we produced the beat for "Lifted". After that we realized we could pull this off. So we worked our asses off to finish it and present it to the masses.
dJ Ghost: It took us a 14 months to write, produce, and engineer the entire album by ourselves (most of it was completed 2 weeks before the album was released). We produced every beat on the album except for "In Medias Res", which was produced by my friend Stephanie Jordan (she also designed the cover art for the album). And while we were creating this project, we were still mixing and engineering other artists's songs and albums.

4) What are your thoughts on the hip-hop industry at the moment?

Apollo: I feel like the music industry is in the middle of a major overhaul. With the dawn of the Internet, we have access to all of this data and information. So now artists are getting to create what they want to make instead of what they're expected to make. I just want to be a part of it, you feel me?
dJ Ghost: I think this is the closest hip-hop has been to a 'Golden Age' since the early 90s because of the variety of sounds and voices in the game right now. However, two problems exist:
The over saturation of the genre, which has allowed anyone to be a star, even if they're not talented.
The mainstream still sounds the same. There are all of these different voices and takes in the genre now, but the radio still sounds like the same song.
5) Do you enjoy grinding it out independently or would you prefer to be signed to a major label?

dJ Ghost: Right now, I like being independent because of the creative freedom. But I'm not going to lie it's definitely harder to reach millions of people because you have to do it by yourself and you have limited resources, especially compared to the artists signed to a major label. Maybe my opinion will change in a year or two, I don't know. We'll see.
Apollo: I'm staying independent. Fuck your label. Don't get me wrong, I would love to have those resources, but I am going to compromise my art for it? Hell no.
6) What do you think goes into building a loyal fanbase?

dJ Ghost: Creating good music, reaching out to the fans whenever possible and touring. Lots of touring. You got to meet them face to face.
Apollo: Good music and loving what you do. Show them that you're just like them because you are.
7) What sort of online promo and marketing are you doing to reach your fanbase?

dJ Ghost: Just conversing on Twitter and getting in touch with blogs and magazines to review and promote our music.
Apollo: That's also a Ghost question.
8) As an indie artist, how do you brand yourself and your music to stand out from the rest of the artists out there?

Apollo: I brand myself as a people's man. I don't write about anything people don't understand or can't relate to. I don't want to be flashy; I just want to be myself.
dJ Ghost: I just share the music and let it do the talking. The music is the brand. The music is all that matters.
9) Where do you distribute and promote your music and why do you think this channel works best for you?

Apollo: I distribute and promote my music on Soundcloud and Twitter. It's mainly because I'm broke, but also because it allows easy access to the music for everybody. (soundcloud.com/protégé-apollo & twitter.com/Protege_AoS)
dJ Ghost: Right now superHero will be distributed on The Round Table's Soundcloud (soundcloud.com/trt-music) Shout out to the collective!
Also any beats I made that I think are cool or produced for other rappers get posted on my Soundcloud. (soundcloud.com/djghost63 & twitter.com/blckkevin) As of right now, Soundcloud is our best option because it's the fastest and easiest way to get our music out.
https://www.youtube.com/watch?v=4aT7Rq0GILU