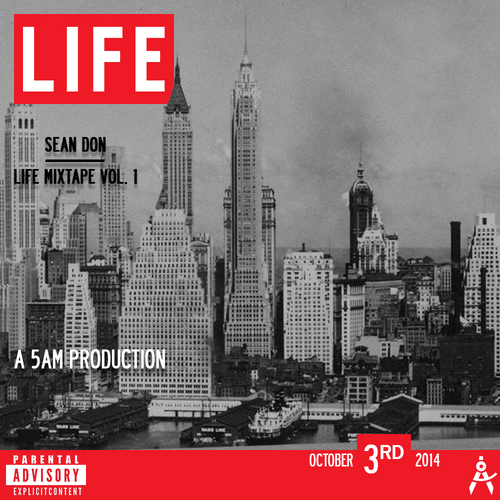 LIFE Vol. 1 is the debut mixtape from Harlem rapper Sean Don. Featuring production from KLewis, Qcreamy Beats and Justin Trax, the 13-track tape showcases Sean Don's NYC influences and also includes a very dope version of the Mobb Deep classic "Trife Life."
1) Tell us a little bit yourself, where you grew up and how you into music.
I'm from Harlem, NY. Grew up on the upper east side on 5th avenue. I used to take interest in poetry as a child so I guess that's what contributed to doing music but as for getting into music a couple of my friends used to always record at one of our boys' house whether it was diss tracks about someone or making a group song.
When they began going to the studio and I went for my first time it was something I automatically was attracted to and all of a sudden it clicked in my head that maybe I could do this too.
2) Who were some of your early musical inspirations?
Wale, Jay-z, Lloyd Banks & Nas.
3) What's your process like in the studio? Does it vary track by track or do you go by a set routine?
Always have the song rehearsed before going into the studio so the session can flow as best as possible. If any minor changes come about during the session whether I don't feel it sounds right, if the producer and or/friends have suggestions that I feel are beneficial to bettering the sound then I'm all for it. Overall time is money and it can't be wasted by not having a master plan.
4) What was it liking recording LIFE Vol. 1? What were the studio vibes like?
It was a long process. Mainly because I didn't always have the money to put towards studio sessions but also because I wasn't taking music serious enough.
Being that I knew my sessions were limited, I made sure that I'd make every minute count. I'm 100% sure everyone around me enjoyed the sessions but at the same time my overall mentality was to get work done.
5) What's your favourite joint off the tape and why?
'Thank You' produced by my main man Justin Trax. Why? This is one of the type of beats that I thrive for. The track has this harmony to it that I'd say "sings to me" and that's one of the main things that I look for in a beat.
6) As an independent artist, what are you doing in terms of promotion and marketing in order to differentiate yourself from others?
Wouldn't say anything out of the ordinary. I mainly make sure to constantly post my music from every one of my social networks and try to get my crew to do the same.
7) Which artists are you listening to these days?
Wale, Ab-Soul, Jeezy, Schoolboy Q, Styles P, Jadakiss, Curren$y, Vado and Lloyd Banks.
Stream LIFE Vol. 1 below and make sure you head on over to DatPiff to cop the tape.