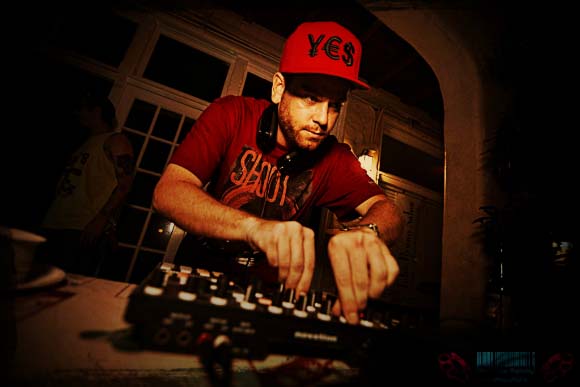 Numonics is a Fort Lauderdale, FL based producer and composer. He is best known for producing full length albums by artists such as REKS, Koncept, Cashus King (fka Co$$) and J NiCS. He has also collaborated with the likes of Freddie Gibbs, Jon Connor, King Mez, Freeway, Wrekonize, Black Rob and more. In addition, Numonics' music has been featured on NBC, TNT, E! and VH1.
1) What inspired you to be a part of the music industry?
I spent most of my childhood obsessing over music and musicians. Besides my father, those were my heroes. I wanted to be like Jimi Hendrix, Ernie Isley, Kurt Cobain, DJ Shadow, Pete Rock, Bob James, Duane Allman, etc. etc. etc. I was allowed and encouraged to listen to all types of music and I took full advantage. I just wanted to be a part of the thing that made me so happy.
2) Talk to me about the making of your latest project. What was the inspiration behind it?
The Year Of The Fox is a culmination of songs I've been working on with a variety of artists. The latest release from it, Fire Drills, by Planet Asia & Ras Kass happened because of another song we did a few years back. I met Ras in Atlanta and we hit it off immediately. Ras is one of my favorite people in hip hop. From that initial meeting, we did a couple shows down here in Miami and worked on a few songs.
Those songs happened to be with another Cali legend, Planet Asia. Asia I know through some mutual friends, Yahtz and Tristate. Fire Drills was recorded when we filmed the video for "Kings". The inspiration for Fire Drills really just comes from the fact that Ras and Asia are two of the best to ever do it. The beat is high energy and captivating and provided a good canvas for them to do what they're great at.
https://soundcloud.com/numonics/planet-asia-ras-kass-fire-drills-prod-numonics
3) What was the process behind making the project?
My process is pretty simple. Connect with the best people and make the best possible songs with them. I took the approach to this album in a slow fashion. I've crossed paths with a lot of great artists from being a producer and someone who throws a lot of events in South Florida.
I brought in the people that I both respect and enjoy on a personal level. It's basically my secret stash of songs I've been doing with people I really like working with that I'm now ready to share with the world.
4) What are your thoughts on the hip-hop industry at the moment?
There's a lot of great music and a lot of terrible music. I see both progression and regression happening at the same time. In regards to the "industry" aspect of it, I see more consolidation of power amongst major labels. There was a brief moment (2007-2010) where it was possible to get a lot of done without major label support. Now it's very hard to do so.
It's a combination of major labels owning streaming services (i.e. Atlantic owns Soundcloud, Spotify is a partnership of the major labels, Jimmy Iovine/Interscope selling Beats to Apple, etc.) and the waning influence of music websites. I feel the majors found ways to co-opt the blog movement and were at the forefront of streaming services, rather than working from behind like they did with MP3's (and allowing Apple to become the largest retailer of music with iTunes).
5) Do you enjoy grinding it out independently or would you prefer to be signed to a major label?
It is very satisfying to make things happen when it's just you. I do all my own press, I am my own budget and I don't have a manager. When good things happen, i.e. a successful single, album deal, tv licensing placement, it's thrilling because of how difficult it is to accomplish considering I'm just some white guy from South Florida. That's not to say that I wouldn't love to have a support system and a company behind me that would give me access to a huge audience.
6) What do you think goes into building a loyal fanbase?
Honesty and consistency. If you could showcase your art by being yourself and give it your all every time, people will gravitate towards your work over time.
7) What sort of online promo and marketing are you doing to reach your fanbase?
I try to release as much music as I can. As a producer, my best marketing is the music itself. I'm the "behind the boards" person is the musical equation so I'm not going to be able to promote myself based on having an edgy look or huge personality. I need to wow people with my work. With that said, I try to get my work in front of as many eyeballs and ears as possible by getting my songs to great websites, utilizing social media platforms and efficient networking.
8) As an indie artist, how do you brand yourself and your music to stand out from the rest of the artists out there?
It's very similar to how you build loyalty amongst fans. Honesty and consistency. I don't try to be someone who I'm not and I strive to get better every year. When you do both of those things, you attract great musicians to collaborate with and ultimately separate yourself from others.
9) Where do you distribute and promote your music and why do you think this channel works best for you?
I try to work every angle possible. I am distributed through Foundation Media, who helps me place my music with every major retailer out there. I have cultivated great relationships within the hip hop media world that help get my music high visibility. I compose music for TV, which I'm not sure helps get fans but it's certainly a great way to establish credibility. You really have to do a little bit of everything to better your chances at becoming successful.