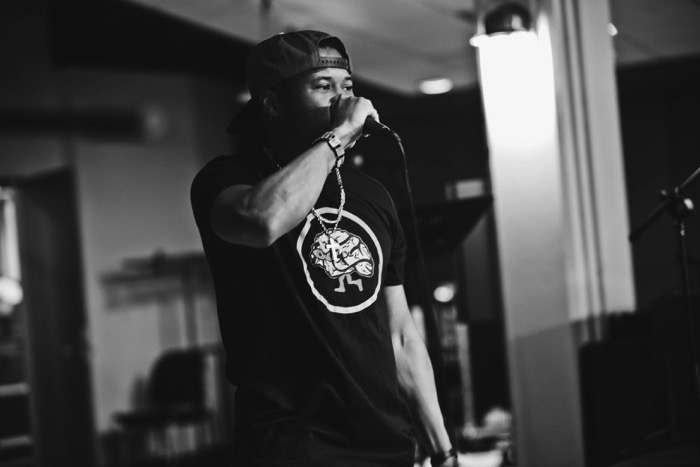 In an era where rappers are rapping about Bentleys that they can't afford and rocking fake Rolexes on Instagram, hip-hop is lucky to have down-to-earth artists like Joey Aich who are focused on perfecting their craft.
In between classes at Denison University, supporting a family of four and his independent grind, Joey's got his hands full but that doesn't stop him from writing music in the middle of night.
Be sure to check out his latest project College D​.​egree on Bandcamp, a 9-track album full of jazzy, chilled out hip-hop vibes, and read our interview below.
1) Tell us a little about yourself and your background.
Well I'm Joey Aich. Recently turned 21 and I'm from Cleveland, Ohio. I've been an artist for a couple years now. So far I've recorded three mix tapes, but I'm really only proud of one of them, being my last one, College D.egree. Not because I thought the earlier two were bad, I've just progressed since then.
2) Who were some of your musical influences coming up?
My musical influences are vast. Earlier days my main influences to rap were my older cousins Riv and Ray Ave. I was a few years younger than them so I looked up to what they had going. I've been influenced by most of the Cleveland music scene as well.
So Cudi, Chip, and MGK are big influences to me. More modernly Asher Roth, Kendrick, Drake, ASAP, Stalley, Kanye. I get my I guess old school hip hop influence from Nas, Tribe Called Quest, The Pharcyde, Jay-Z, and a few others.
3) How would you describe yourself as an artist? Has your style changed much over the years?
Man its been a journey I'll say that. I used to be super conscious. Very preachy and it was cool cause I said some really inspiration stuff, but it wasn't replayable music. It was "ok I hear you, I get what you're saying" and on to the next song for listeners.
I made it a huge goal to change that and get people to hear my message and still be able to vibe to the music and enjoy it. I think i've accomplished that. I have songs like 40oz where its strictly about my obsession with 40oz. I can play that when the occasion comes, or a song like Smooth Hardcore, which is for the avid "real" hip-hop listeners.
I try to experiment now and not just use a message to drive a song, but my lived experiences to drive my content. For example, I used to make songs about being sober and how being sober was the best way to go or how I wouldn't let drinking consume me, but in songs like "Tattered Labels," I using my experiences of drinking to cope with real life problems to let the listener know that they aren't alone, and I deal with the same issues.
I've grown so much since a young artist. From when I started at 16 to now being 21 I've learned to be liquid-like. I have a stronger appreciation for music and I just want to contribute to the success of the culture.
4) What's your process like for making music? Do you have a set routine or does it vary track by track?
It varies. I go through a lot of moments of writers blocks. I currently just got off of one like this week, but I write in spurts. Sometimes I can write maybe three to four songs in a fews days, and others I can't write a song in three to four weeks.
I write a lot in class. I'm enrolled at Denison University and in some of my classes I zone out and flip to a private part of my notebook and just write. I let my mind fly and see if something comes out of it.
Other times I write at night in the wee hours of the morning just whispering lyrics to myself and writing them in my note apps. It truly varies though. Sometimes I just get it and others I have to really sit down and put myself to it to make it happen.
5) Can you run me through the making of your latest project? Where were the studio vibes like?
This last project was awesome to be honest. I felt like I failed on the purpose of my project prior to College D.egree. I titled that one "Classick" and it was suppose to be about my college life and experiences with it, and I just failed in my opinion.
The title of that tape should have been something else, but on this project I really wanted to capture that experience and use it. And not just say yeah I'm in college, but tell a story. So I created this fictitious character "Patagonia Vine" to represent a girl on this campus due to their attire consisting of mostly Patagonia or Vineyard Vines and all that preppy stuff. I centered my whole tape around an average week in college.
"Coffee" is the Monday everyone hates and that desperate needing for Coffee to get through the day. And other songs like "Patagonia Vines North Face" is me trying to spit at a girl and say witty things to make her smile or whatever.
This project was so creative to me in my opinion. I recorded a lot of it with my musical brother, Sarob., and we both were working on our project at the same time so it was constant progression. I wouldn't let him slip on his project and he wouldn't let me slip on mine. He really helped me with this.
Check his project, noon., out if you haven't, its something special. College D.egree just opened my eyes to a lot that I wouldn't have seen the years prior.
6) What sort of independent hip-hop promotion and marketing are you doing to differentiate yourself from other artists?
I treat my career like an actual 9-5 job. Most artist use rapping to escape the blue collar, but I mean to me you have to be blue collar with it.
You have to do the dirty work. You have to let everyone who comes into contact with you know who YOU are or when you dropped your latest song. Spending hours sending emails to blogs or friends or whoever to get your name out there is something that separates me from others.
I'm going to get people to listen some type of way. I don't have the funds to buy my way into it so I have no choice but to work my ass out like I'm trying to support a family of four.
7) What are you thoughts on the current state of hip-hop music today?
I really enjoy it. I enjoy that it isn't just one genre, but its a bunch of sub genres to create a even bigger genre. I like that you can have someone who bumps mostly lyrical rap turn around and listen to Migos and turn up.
Its awesome. Its beautiful to me. I think hip-hop went through a little phase where people were trying to box it into one single genre and now we as a hip-hop community are accepting its versatility.
8) What music are you listening to these days? Anyone in hip-hop really blowing your mind?
Too much to even give credit to, but one person in general who I haven't been able to stop listening to is Vic Mensa. He's truly killing it. Dude is on Kanye West's album. He's at a place that I just can not wait to reach. I think I played "Down on my Luck" and "Feel That" driving maybe 40k plus times. And thats just an estimate.
Other than that I've been listening to a lot of local Cleveland artist. A little Atari Jones, a little Ray Ave, Tae Miles, Common Ave, Nicx here and there. I have been really trying to spread the work because we really have a strong talent base out here and I want to be apart of it even if I'm not musically apart of it.
Oh and before he got locked up Bobby Shmurda. He deserves song of the year for "Hot N*gga." That song is great.
9) If you could work with any artist you wanted, what would be your dream collaboration?
Honestly, Michael Jackson. I don't say that because he a legend I say that because when I hear his music I think about how rare the studio session was when he recorded it.
For example, in one of my favorite songs " Get on the Floor" or "Off the Wall," he just sound like he's having so much fun.
He's enjoying the process. I wish I could have that. Other than him I want to say Asher Roth, Kid Cudi, Kanye, or Kendrick. I think they each would pull something creative out of me.
10) What has been the best moment in your music career so far?
I think the inspirational aspect. I've always wanted to impact peoples lives and hearing people say that me chasing my dreams helps them touches the absolute life of my soul. It just gives me that accomplished feeling I long for.
Being on stage or letting my personal story be heard and others watching and hearing and finding a way to connect that to their life is special. I enjoy that more than the attention or the interviews(I appreciate this though :)) or money, and subtle fame it creates. Thats the best part to me.
11) So what's next for you?
What's next? Well I have a lot of music I can't wait to get out. I want to create more awesome visuals and perform more and all that stuff. I'm closing the chapter book on College D.egree and working on new stuff.
This is actually the first time I'm saying this, so I guess you can say you guys have an exclusive, but I think I'm going to release a little EP in the early summer. I don't have a name for it yet, but its just a collection of songs I want to get out and show people what I've been working on since College D.egree.
I do have an awesome visual I'm trying to plan for a song "Douglas" which isn't out yet, but I think its pretty cool. Its me trying to get a little more creative. Expanding and continuing to progress is my main goal at this point. I'm ready to put those who have supported and rocked with my journey in a position to say they remember when he was begging people to listen to his mixtape and be proud of me!