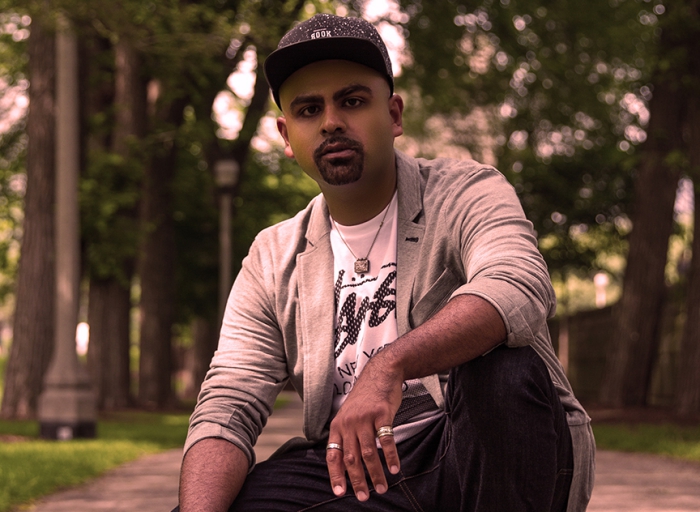 1) How long have you been doing what you're doing and how did you get started in the first place?
During an eighth grade field trip to Springfield, Illinois I discovered Hip Hop. I was sitting with my bus buddy on the three hour long journey to our State's Capital and asked to borrow his cd player. My friend had a vast Hip Hop CD collection and I absorbed everything during the entire trip. I drew inspiration from not only what I heard from mainstream and underground rap, but since my father writes poetry and has had his work published in magazines, I felt that I could make words rhyme too. My first attempts at writing rap songs emulated the gangster rap era and were highly unoriginal. Eventually, I kept honing the written craft and gearing it more toward my personal experiences. The breakthrough moment of being able to freestyle hit in High School when someone in the cafeteria asked me to rap off the top of my head. In college, I started performing for fashion shows, frat parties, and campus open mic events. I started gaining popularity in college, but I never wrote a song or recorded a mixtape during that time; most of it was just freestyling openly. After college, I put Hip Hop to the side and focused on a family business. In 2012, everyone I knew encouraged me to start recording my vocals. I started working on a mixtape at a friend's apartment studio in my hometown but quickly halted it after several remixes to write original music in other genres such as EDM and Pop. So far, I have about three original songs recorded toward my debut album. Two of those songs won semi-finalist placements in two international songwriting competitions. I'm almost finished doing the remix to my latest single which will feature a House music legend as a backup vocalist. I'm already recording my fourth original song throughout this summer. I plan on creating a professional music video. The film director for this will be a guy who has worked on music videos for some of today's mainstream rappers like Twista. I also plan on getting back to my unfinished mixtape, this time I will start rapping on today's mainstream Hip Hop instrumentals and any other songs outside of Hip Hop that inspire me as opposed to what I was doing last time which was rapping over old school Hip Hop beats.
2) What sort of hurdles and obstacles did you face to get to where you are now?
When I first started rapping, I had a very unorthodox style of rapping. I was rapping over Eiffel 65, Daft Punk and Fat Boy Slim beats. People loved my rapping but no one could make sense of my image. I think it was mainly because during that time, Hip Hop wasn't really fused into other genres the way it is today. It didn't help that I was Indian either. I never really believed in my own ideas and never thought I could fit the Hip Hop image that could make me successful. During that time too, there were no online tools like today's technology that could streamline the process of getting your music out to a larger audience. There was no YouTube, or iTunes or Spotify. We really only had Napster. By the time I was in college though, YouTube, Facebook, and Myspace were getting popular, but I was mostly a freestyle rapper and never really thought about focusing on social media. Most of my fans were always around me in college and to express my talent, all I had to do was go downstairs to the dorm lobby. Nowadays, I'm focused on developing my brand to reflect who I am and I am exploring other genres as well. I'm working with a management company that's based in Chicago and Los Angeles. I'm also doing a lot of work myself. I'm constantly updating my social media, tweaking my website, and doing graphic design for my merchandise. I'm getting back to my mixtape and trying to focus it on experiences related to my personal life, such as, the racism I encountered in school and being an immigrant in America. These days, my obstacles include balancing my schedule for events like photo shoots, budgeting for studio time, networking with other people, and always trying to find things around me that could possibly inspire me. Sometimes your creative juices stopped flowing, when that happens, you have to learn to get up and walk away from your art and do something else. Then, when you come back to your craft, you suddenly have ideas you didn't have before when you were pressuring yourself through writer's block.
3) What's the hardest thing about being an independent artist?
I think the hardest thing about being an independent artist is learning to do everything on your own. You have to be your own Publicist, Graphic Designer, Web Developer, Songwriter, Manager, Accountant, Social Media Analyst, SEO Consultant, Public Relations, Booking Agent, Stylist, Journalist, Show Promoter, Street Team, and Producer. Of course, it's tough to become extremely proficient in everything. To remedy this, you have to become knowledgeable to some degree in each of these areas so you can communicate effectively with people you network with that can help you in different areas of the music industry: you also have to build a solid team around you as well. It is also tough balancing your work life with a music career and finding time away from work to focus on your musical endeavors. Another thing is staying up to date with all the emerging artist tools out there that can help leverage your career. Even though it's easier to get your music out there to a larger audience with all these tools, it becomes increasingly more competitive because you have more artists and musicians releasing music faster than ever before. In addition, the music industry landscape keeps changing so you have to be able to adapt to it. There are millions of blogs out there and they each have their own criteria and guidelines for the music submission and review process so you have to learn to avoid the faux pas of spamming them. It also becomes tougher to sell your music with all the free streaming sites out there. Therefore, part of your job involves finding other revenue generating opportunities such as licensing and publishing. Not only that, but you have to learn all the laws behind getting your songs licensed or published anywhere. Another hard thing to do is making the most out of expensive studio time. You have to be fully prepared with your song, vocals, attitude and what you want things to sound like because every second counts. Another hard thing is getting people to care and developing a fan base.
4) Are there any independent hip-hop artists out there who inspire and motivate you?
There is a lot of really good independent music out there. But to answer this question I guess I can focus on independent artists that have achieved mainstream success. I say this because I plan on achieving some level of success. It's inspirational to me to see an artist or a band break as an artist without a record label. It goes to show that you can have what it takes to do it on your own with the right blend of talent, timing, luck, networking, mindset, and professional image. Sometimes you'll find that the independent artist you never knew before that suddenly got plastered on every online magazine on the internet got the lime light because they produced tracks or wrote songs for major artists behind the scenes in the past. I guess the independent artists that motivate me are the people that have been on the grind for many years and just kept networking with the right people to let things manifest like that.
5) Where do you see yourself in 5 years?
I see myself collaborating with some really creative people in the music industry. Sometimes it takes several months talking to somebody who will talk to someone who will get me in touch with someone. A management company is your middle man and buffer for that. I'm currently talking about starting a project with a producer who has worked with a mainstream artist signed to Young Money Records. I'm also working on a remix to one of my original songs that will feature a vocalist who sang on a song dubbed, "The House Music Anthem" which made House music internationally famous back in the 1980s. So essentially, one of my goals is to collaborate with people and see what we can come up with together. I know photographers and film directors that have worked with major artists so I plan on working with them to do some of my graphic design, videos, and other visuals. I also see myself finishing up my debut album, pumping out a few Hip Hop mixtapes, making a few really good music videos, and building rapport with music industry professionals. I also see myself helping out other musicians with my Artist Services. At the very least, I want my musical resume and portfolio to have some really good milestones on it so I can look back and say "I did all that, and that song I made that I performed at that nightclub, it got people hopping out of their seats."
6) Who were the first influences on your music and style?
I would say that the first influences on my music and style came from the days where if you wanted to watch a music video, you had to turn on cable TV and tune into BET. I started watching BET after listening to Hip Hop CDs my friends would share with me in school. Some artists that influenced me: Lord Tariq and Peter Gunz, KRS-One, Jurassic 5, Wu Tang Clan, Bone Thugs N Harmony, Dr. Dre, J Dilla, Digital Underground, Eminem, Twista, Heavy D, A Tribe Called Quest, Talib Kweli, Common, Mos Def, Naughty by Nature, Queen Latifah, Afrika Bambaataa, Cypress Hill, Marley Marl, DJ Premier, Timbaland and Magoo, Will Smith and DJ Jazzy Jeff, Big L, Nas, Tupac, Notorious BIG, The Sugarhill Gang, Slum Village, Grandmaster Flash, Tech N9ne, Immortal Technique, etc. were all early influences. House music also influenced me at this time. So artists such as Frankie Knuckles, Marshall Jefferson, Inner City, Cassius, Fast Eddie, Joey Beltram, Stereo MC's, gosh my mind is blanking, who else? Well, just to wrap up this question, since House music originated in Chicago, I got to mention the Hot Mix 5 who I used to hear all the time on the radio.
7) If you could choose to collaborate with 3 other artists on the same track – who would they be?
Well, I have more than three. I would definitely want to collaborate with Weekend Players, Thievery Corporation, Paul Oakenfold, Jamiroquai, Janelle Monáe, Gorillaz, Bonobo, Linkin Park, Steve Aoki, David Guetta, Zedd, Skrillex, Imagine Dragons, The Script, Cobra Starship, Owl City, Neon Indian, Empire of the Sun, Lily Allen, Ellie Goulding, Jane's Addiction, 311, the Café Del Mar record label, Jem, and any producer on the Ultra Records roster. Of course, I would also love to work with my own people; so Jay Sean, Imran Khan (he's Pakistani but whatever, same difference), Naughty Boy, M.I.A (she has Sri Lankan Tamil descent but whatever), and RDB.
8) What makes your music different to other artists?
There are no mainstream Hip Hop artists that are Indian in America. So in one way my ethnicity is a hindrance, but in another way, it means I have different perspectives on life I can bring to Hip Hop. I have personal experiences that have not been explored too fully in Hip Hop on a mainstream or underground level. I also don't have an Indian accent, so people are surprised to see me and then hear my vocals. It's almost like rick-rolling them. I don't sound white Caucasian, African American, or Hispanic so some people have asked what ethnicity I am after hearing my music. Another thing that makes me different than other artists is the approach that I am taking to produce my music. My debut album is not going to cater strictly to Hip Hop. There are going to be other genres tossed into the mix. My willingness to work with a wide array of producers and artists allows me to switch up my rapping and Hip Hop stylized vocals. I don't want to be categorized into any one genre. Another thing that makes me different from many Hip Hop artists is that I never chose a moniker or stage name and instead use my real full name. In retrospect, I realize it might be harder to pass along my name through word of mouth or even finding me on the internet. I hope to change the mindset artists have of always wanting to create a catchy pseudonym or shortening their ethnic name down to a phonetically similar and easier to remember English name.
9) What are you hoping to achieve with your music?
I feel that the Indian community in America's mainstream media is underrated. I feel like our American society still has biases toward us. I feel like we are the last race still waiting to be accepted in the USA. You see every other race in Hollywood movies, but seeing an Indian on the big screen is uncommon. If the media does portray us, it's mostly some Indian movie extra with an Indian accent playing a cameo of a guy at a convenient store selling gum to the main actor for five seconds. Don't get me wrong though, I mean, we do have TV Shows with Indian actors like The Office, Parks and Recreation, Outsourced, and 30 Rock. We have Hollywood movies like Bend it like Beckham, Mississippi Masala, Harold and Kumar, Slumdog Millionaire, Million Dollar Arm, and The Hundred Foot Journey. We have comedians Aziz Ansari and Russell Peters. We even had famous Indian musicians like Ravi Shankar, Norah Jones (his half Indian daughter) and Jay Sean. Indian musicians were even members in popular bands like Soundgarden, Lucky Boys Confusion, No Doubt, One Direction (well technically Zain Malik is half Pakistani, close enough though), and Sum 41. Even though our popularity in the media is surely rising, it's a slow growth and what I hope to accomplish is representing my culture in my music so that attention is actually brought to it, as opposed to being just a musician that just so happens to be Indian. Like, "oh he makes good music, but I didn't know he was Indian." I think Hip Hop would allow me to do just that; talk about what it's like to be an Indian in America. At the same time, it would also help me contribute to Hip Hop's diversity. Actually, there are a lot of Bollywood music collaborations with huge Hip Hop superstars, like the song "Singh is King" featuring Snoop Dog and "Shera Di Kaum" featuring Ludacris and "Beware" by Panjabi MC featuring Jay Z, but I want to make music where those collaborations are there without necessarily having it be a Bollywood influenced fusion.
10) What do you think is the biggest barrier an artist like yourself has to overcome, to gain commercial success? 
Part of it has to do with location. I feel Chicago is still a little underrated in the music industry, even though we've had several huge Hip Hop artists break from this area such as Common, Da Brat, R Kelly, Twista, Lupe Fiasco, Kanye West, Chance the Rapper, and Chief Keef. Illinois itself has seen bands break from here like Stabbing Westward, Local H, Lucky Boys Confusion, The Smashing Pumpkins, Disturbed, and Fall Out Boy. Chicago is getting recognition nowadays which is a good thing. Another barrier would be my ethnicity; the music industry itself in America is predominately white Caucasian, African American, or Hispanic/Latino and you don't see too many Asians on the scene unless they are in a band. There have been a handful of successful Asian rappers such as MC Jin, Far East Movement, and Southstar, but rarely any Asians that are Indian.  Another barrier would be my name I guess; I never picked a stage name that could be easily spread through word of mouth. Furthermore, my brand name "Rhyme Dilation" sounds like a band or the name of an album. Most of the music I've come out with has some spiritual connotations and is more about being true to oneself or my personal experiences and focuses less on the machismo bravado you hear in mainstream Hip Hop; I guess I have to find my niche audience. I'm also reaching that age where I have other obligations in life and wish I could have started a music career at an earlier age. Other barriers were mentioned in earlier answers but to reiterate, as an independent artist even though you have to wear many hats, it's learning to stay focused on the music: you can't get side-tracked and caught up by things like how big your social media presence is: at the end of the day, no matter what happens in your music career, it's the music you make that matters.