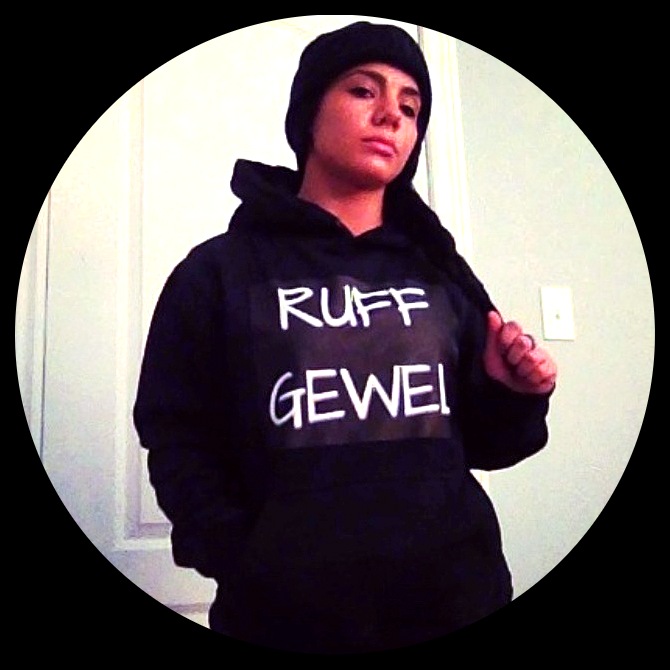 1) Tell us a little about yourself and your background.
I was born and raised in the GTA in Canada with an Italian heritage. I am the youngest of three. Music was and will always be a huge part of my life. I always enjoyed writing songs as a kid and making words rhyme. Whether on paper or in my head. I was always very musical. I was very outspoken as a kid; a bit of a troublemaker.
As I got older, things changed. I became very quiet and kept to myself. I felt very different from others and never felt like I belonged or fit in anywhere. I became depressed in high school, which made me grow a lot closer to music. It was always there for me and provided an outlet. I began writing to let things out and express what I was feeling.
It was like therapy for me. I didn't know I could rap at the time. Eventually I started rapping my rhymes out loud to instrumentals and fell in love with it. I realised then that music was what I wanted to do with my life. From that point on I dedicated myself to writing rhymes and getting better at it. With time, I developed my own style and sound. I knew then that I had a gift, a voice and a reason to be doing this. That I had something to say and could make a difference in peoples lives through my music, just the way music has for me.
2) Who were some of your musical influences coming up?
Eminem was and still is the biggest influence for me coming up, ever since I first heard his music. I know it may sound cliche because he's a lot of artists musical influence. But that's because of his remarkable talent and the way he touches people through his music.
He is a big reason why I got into rap. He inspired me to write and have the confidence to express myself through rhymes. Other artists I was influenced by are Bone Thugs N Harmony, Nas, 50 Cent, DMX, Lecrae, Ice Cube and many others.
3) How would you describe yourself as an artist? Has your style changed much over the years?
I'm a very passionate, aggressive artist. I have such a genuine love for making music. It gives meaning to my life. I have definitely progressed over the years when it comes to writing and rapping. I've developed my own sound and style and have gotten more than comfortable with it.
I struggled with expressing myself years ago and you could tell through the way I used to rap. Now I have a lot more confidence and personality when I rap. I have also improved lyrically and widened my vocabulary as well as improve my word play.
4) What's your process like for making music? Do you have a set routine or does it vary track by track?
When inspiration hits me, I write and just completely get in my zone. It varies. Sometimes I write to an instrumental, and other times I write without one. I find I prefer writing without a beat a lot of the times. This is because it helps me develop and grow as artist since it gives me a chance to create my own flow and sound without the help of a beat.
This challenges me more, rather than just fitting words to a beat. I usually write my rap first then find a beat and fit it to it, making adjustments. Other times I write to a beat because the beat just speaks to me and makes me come alive more. My inspiration comes from pain; when I'm hurt, angry, sad, going through anything or just feeling motivated.
5) Can you run me through the making of your latest project? Where were the studio vibes like?
My latest project was actually my first project; my mixtape Don't Look Just Listen. The idea behind that was that I don't want people to focus on what I look like. I want them to focus on the music and nothing but the music. Image is important, but it's not everything.
I find image plays more of a role than the actual music these days, which is why I want the focus and attention strictly on my music. I want respect in this game as an artist. The vibes when recording were more serious. I felt I had something to say and just wanted to say it. I felt very comfortable expressing myself on the mic. I was very eager to finally record all the songs I've worked so hard to make.
6) What sort of independent hip-hop promotion and marketing are you doing to differentiate yourself from other artists?
Right now I'm not trying to be different than any other artist or to stand out apart from anyone. I'm just doing me and making music from the heart. I'm doing what I love and trying my hardest to get it out there and heard.
That's my main focus right now. A lot of the promotion and marketing I'm doing right now is online. But it won't stop there. I need to get myself out there physically. I need to get shows and perform as much as I can and build up a fan base.
7) What are you thoughts on the current state of hip-hop music today?
Honestly, I'm not impressed with a lot of the current hip-hop I hear these days. It's become so mainstream and everything seems to sound the same. The structure of songs, the hooks and the way people rap. I find the music lacks soul. It's not what it used to be. There isn't much depth or meaning behind it.
Don't get me wrong, there are some great artists making music in Hip-Hop these days that I really like and I applaud what their doing. Music should be about self expression and story telling. Providing meaning in your lyrics.
Making people feel what your saying, and standing for something. At the same time, just having fun with it. I would really like to see today's Hip-Hop how it used to be.
8) What music are you listening to these days? Anyone in hip-hop really blowing your mind?
I'm still listening to a lot of the older hip hop from the 90's. Good music has no expiration date so I am still listening to various artists from that time as well as current artists. Of course Eminem, 50 cent, Nas, DMX, Bone Thugs N Harmony, Lecrae, The Game, Ice Cube and NWA.
I also like Tech Nyne, Kendrick Lamar, Hopsin, MGK and a lot of underground artists. I find underground indie artists tend to have the best music to listen to because they are hungry and really putting everything they got into it.
I seem to be really impressed with a lot of underground artists. I hear a lot of females on the web that have such soul, lyrical ability and rawness to their music. What blows my mind is that fact that they are underground and don't have the hype that they should. The same goes for a lot of the underground male artists.
9) If you could work with any artist you wanted, what would be your dream collaboration?
Eminem for sure. He is the biggest musical inspiration to me and a huge reason I got into rap. His music has helped me through life and gave me the courage to express myself through my music.
I would really love to collaborate with any of the members of Bone Thugs N Harmony. Their music has such power and soul to it. They have such a distinct sound and style. I remember in elementary school I did a project on them. I was really crazy about them and their music.
10) What has been the best moment in your music career so far?
To be honest, I have been writing and rapping for about 5 years now. It wasn't until recently this year I recorded my songs and released it on the web. It's been a struggle to get comfortable with expressing myself on a mic and having people hear it.
So although I'm not new to rapping, I am new to networking. Which is a whole hustle in itself. I'm just taking it day by day, working hard, learning a ton and seeing where it takes me.
11) So what's next for you?
This is just the beginning. Right now I'm just trying to get my music out there and heard. I am currently working on a new mixtape. I am in the process of writing it right now. There is no set date for release yet.