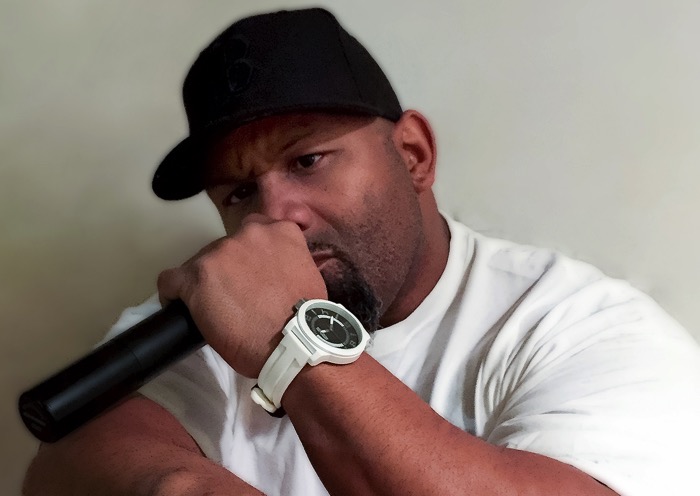 1) Tell us a little about yourself and your background.
I'm an old man re-entering the game. Originally a native of NY, I grew up in Queens. Got my first Gemini Mixer and Fisher turntable when I turned 13. Bought from my man Todd RIP. I was a Dj first before I started to Emcee.
Started making blends and mix tapes back then continued onto high school and college. During my time away at college began Turntablism with some friends from college. Was a 3 man group called 1200 Percynt. If there was a party at a club, frat house, sorority, etc.
One of us was holding it down. Been composing tracks for myself and producing beats for a long time. Before DAW's were available. Reel to Reals, Akai samplers and drum machines. I had a demo tape but never shopped it. Decided to focus my efforts on my education at the time.
After going through some life changing events that inspired me to use my voice. This became my way of dealing with the negativity through my music, which kept me in check.
2) Who were some of your musical influences coming up?
My musical influences growing up were Run DMC, Phil Collins, De La Soul, Heavy D & The Boyz, LL Cool J, Stevie Wonder, A Tribe Called Quest, MC Shan, George Clinton, KRS-One. This list can get much longer!
3) How would you describe yourself as an artist? Has your style changed much over the years?
I would describe myself to be a Teacher/Ambassador as an Artist. What I compose in my music has been completely driven on my personal experiences and reflections.
So my style changed quite a bit over the years. I use to rhyme about the music, about spinning records and emceeing. I started out as a Dj and so my vocal presence would rise up here and there.
4) What's your process like for making music? Do you have a set routine or does it vary track by track?
My process for making music is complicated. Sometimes I hear something and it drives me to create a combination of sounds. Sometimes I get an idea lyrically in my head and start from there and then build a beat around the lyrics.
Just depends on what my mood is. My music became a way for me to deal with the negative aspects that took place in my life. I used music to help me get through some very tough times.
5) Can you run me through the making of your latest project? Where were the studio vibes like?
My last project was pretty funny and intense. The title is called "Liar" I have this pet peeve about liars. I know everyone lies. But the severity and degree of lengths that persons go and have gone to in attempts to lie to me have been astronomical.
So I felt the need to belt out some lyrics to address those persons who I felt did a great deal of lying to me. I'm not giving in names. But they know who the are.
6) What sort of independent hip-hop promotion and marketing are you doing to differentiate yourself from other artists?
At the moment I've been going to open local open mic shows. Doing a lot of hand shaking on Twitter, Instagram, and Facebook.
7) What are you thoughts on the current state of hip-hop music today?
I think hip hop at the moment is being shaken up. There is some fresh material coming from the likes of Run the Jewels (EL-P and Killer Mike), J.Cole, Kendrick Lamar. I have always been a fan of the conscious message, the story.
The state of hip hop is at a turning point. It's critical at this point in time as a Nation, as People. There is some crazy stuff going on out here that is so wrong. And the attitude that has risen is one of authoritative ignorance.
We need the movement that shows solidarity amongst all creeds of color. We need to show the next generation that their is some positive reinforcement. We can't always resort to violence to achieve peace. The cycle has to be broken.
The popular ones' and no ones' in the lime -light or not. Need to be hold themselves to a high esteem and should be everything that they can to do a better job of pointing the youth in the right direction.
Prior to 2014. Can't say that I was a fan very much. Found myself listening to internet radio looking for independent Artist to listen to. Commercial Radio was playing the same tired thing that they had been paid to play.
8) What music are you listening to these days? Anyone in hip-hop really blowing your mind?
I listen to a lot of weird shit by other peoples' definitions and interpretations. I have an eclectic ear and taste. I appreciate good music. Current rotation for me at the moment is Frank Wiedmann & Ry Cuming, Glass Animals, J Cole, Raheem DeVaughn, Kendrick Lamar, SBTRKT, Yung Gud. The list goes on and on.
9) If you could work with any artist you wanted, what would be your dream collaboration?
This is a tough question. Cause my taste are so eclectic. There are a variety of artist from different genres I would love to work with. However; staying within the box for the moment I could work with any music artist I wanted to at the moment, I would have to say my dream collaboration would be to work with either Pharoahe Monch or J Cole.
Pharoahe Monch represents my past-gritty smash mouth. J Cole represents my reflection. I met Pharoahe back in the day, when he and Prince Po were just making their first record. J Cole I slept on for a while. When I caught up I realize how much I could relate to his music. So I feel like we share a similar interest and background.
10) What has been the best moment in your music career so far?
The best moment in my music career so far, was getting back to my first love, music. The feeling is exponentially gratifying when you share your music and you get the feedback. That is the validation. Of course not everyone is going to like your stuff. So to each his or her own.
11) So what's next for you?
Next item up is finishing my 3rd LP. Some things are done… Some things I'm not settled on… Some things need to be tweaked. But I'm hoping to drop my third LP "What Silence Looks Like" on April 27th.
Few collaborations with Tyriq, Andy Oliveria, and a few others. I'm being super weirdo critical because I'm an artist but seriously I just want people to enjoy my music as well as feel my story, my experiences.