Alabama hip-hop artist, Vj Da SkullMane, has dropped his second project The Black Flame for his fans to cop. You can stream and download the tape here.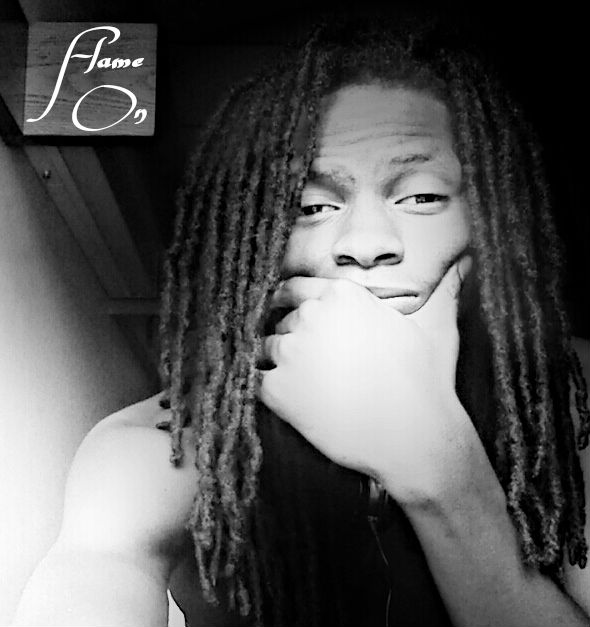 Check out Stop The Breaks interview with Vj Da SkullMane below. The Southern rapper talks about a range of topics, including being influenced by Lil Wayne, studio vibes, promoting his music through DJs and Odd Future.
1) Tell me a little about yourself and your background.
First and foremost, I AM the Flame!! The hottest out the cool little city of Dothan, Alabama. I'm an Ol' Skool person, really. I was born in '94, when music was at it's finest. It doesn't get too much better than that, man. I still remember chilling with my Grandmother listening to Keith Sweat on Wednesdays!!
But I feel I'm truly what would be defined as a modern-day MC[that dabbles in rap]. You don't really see too many nowadays[at least not where I'm from and the places I go]. That's pretty much the gist of me, by ME, as an artist. I started from poetry–I was writing poetry back in seventh grade and made the switch when I left the eight[grade], and I been spittin' since.
2) Who were some of your musical influences coming up?
Ooooooooo!! Strangely enough, as a kid, my favorite artist was who everyone swears I up and down I look like now– Lil' Wayne. He was the main person I'd listen to–Wake up in the morning, HAD to hear Wayne, go to the bus stop, HAD to bump Wayne, studying for a test, HAD to learn Wayne! LOL! But as I aged, I began appreciating other great artists, such as Eminem, OutKast, Method Man[who happens to be my all-time favorite artist] and Krayzie Bone of Bone Thugs n Harmony. And you know I can't forget the Greats: Pac and Biggie!
3) What's your process like for making music? Do you have a set routine or does it vary track by track?
Making music for me–making music for me, it varies, you know? It'll be like, I could just walk in and and hear a beat, and with me, it's like I do what I feel the beat tells me to do–I say what the beat tells me to say. It sounds weird, but I have conversations with whatever beat I use before I touch it. And it's like, each beat is a different conversation,and It never takes long, but when you hear the end result, you'd swear I took hours in thought with it.
4) Can you run me through the making of your latest project? How the idea came about and what the studio vibes were like?
Man, which ONE! I have completed three other mixtapes since the last one(The Black Flame) that you've heard! My latest completed project, though, is the Black Flame 2.
Working with this one was kind of a doozy, because it has most of my more personal songs on it. Like, there's two songs on it in particular, "Changes" and "The Purge", that depicts the turbulent relationship that I once had with my father. "The Purge" was so harsh that had to place a completely light-hearted and pointless freestyle behind it to lighten things up again!
It [the vibe] was always good in the lab, though! I was usually with my cousin, Blacc-T Zay, we'd usually have one up while listening to beats. We find something we like, we'd call beats like, "Aye, I'm on that!", and if we wanted to feature each other, that's what we did.
5) As independent artist, what are you doing in terms of promotion and marketing in order to differentiate yourself from others?
Coming from where I'm from, there's not too many ways to move the music that hasn't already been done. CD's, social media, club spins, radio play, showcases here and there–the usual. I have just recently started moving my music through Djs, but that's nothing new either. All in all, everyone does practically the same thing.
The differentiation really doesn't come in HOW the music moves, I think the true differentiation, for real, is based on the listeners, you know, who it's moved TO–if you can make them feel you MORE than somebody else. I mean, my flow differentiates me, so I don't really worry about differentiating myself with the promotion because the music gonna move regardless, I just make sure that I stay on top of what I do best. So when get me , you HEAR me, you FEEL me, next thing you know, you're asking when the next tape dropping!
6) What's the number tip you would give to someone who's looking to get in the music industry?
MY advice would be to not get caught up in the trends of it all, man. If you a hip-hop artist, like HIP-HOP Hip-Hop, don't switch to trap rap because 82% of your community loves trap rap. Know that there WILL be somebody that appreciates your sound, so just keep grinding and do you the best way you can.
7) How do you feel about hip-hop today and where it's headed?
Man, I view it about the same as Nas did years back. Hip-hop is a dying art. I see this as the The Trappers Era, where full-fledged rappers and of course, trap rappers, have emerged and taken the light. Maybe one day, the world's true spitters will reemerge, but for now, it's a trapper's world.
8) What music are you listening to these days? Anyone in hip-hop really blowing your mind?
I don't really listen to too many people of industry, BUT I gotta say my favorite artists are the EarlWolf combo, Earl Sweatshirt and Tyler the Creator!! I have been listening to "Hive" (Doris) by Earl for the past week! People steer clear of them because of their lyrics and anti-religious views, but man, they are two of the best, most creative lyricists of today, point blank, period!! And all the have to do is TALK on a track! I'm trying to get back to my rock and pop roots, though. But yea, EarlWolf….All day…..Odd Future…..WOLFGANG!!