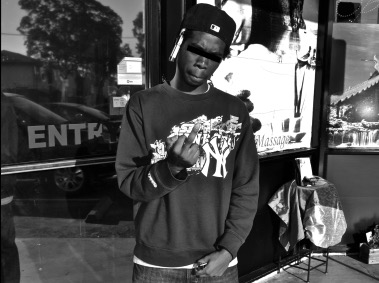 1) Do you remember the moment you wanted to be a hip-hop artist?
I remember wanting to be a hip hop artist when I discovered a crate of my dad's record collection when I was about 9, I wanted to be a dj at the time and i still have hopes of doing that as well as producing.
2) What was it like creating your latest project – The "EAZE" Mixtape?
While making The "EAZE" Mixtape, I experienced a lot of self-realization , the more I got into writing and producing it , the more I realized what kind of an artist I was.
3) What are you trying to achieve with the project?
Honestly, my objective was to give my audience a piece of my mind and thought process and also my opinion on certain things that go on in the world.
4) What are your thoughts on staying independent or signing to a major label?
I feel like staying an independent artist increases your work ethnic by a lot. Being that you have to do everything by yourself, you learn a lot about music from a business point of view and from my perspective how to make good music , without selling yourself out.
5) How do you feel about the independent hip-hop industry right now?
The independent industry is building a lot of artist individually, It gives artists a chance to do what they desire.
6) As an independent hip-hop artist grinding it out, what sort of promotion and marketing are you doing to stand out from the rest?
Well, when it comes to marketing and promotion , I like to look at it from an artist point of view, literally, I use graffiti and graphic design to promote what I do, for example by wheat pasting and making giant stickers and using all types of forms of art to have my movement not only heard , but seen also.
7) How do you think you've grown as an artist?
As an artist , I feel I've grown in plenty of ways, in the quality of music I write, produce , and engineer, this music thing is a growing process mentally.
Also I've grown as a fan of my fans, I think about how they would like to see things done and what they've seen done so I can always come up with something new.
8) How do you feel about hip-hop today?
Honestly, I feel mainstream hip hop now of days is pretty sad, only pushing out negative messages throughout the radio and television, on the side of underground music though through mixtapes and what not, hip hop is still very much alive, there are many artist who are progression in a positive way throughout their music.
9) What artists in the game today do you look at for inspiration?
Well, by today I am referencing to artist that have made great music in the past. A lot of east coast musicians did the trick such as MF DOOM, Mac Miller, Bishop Nehru, Joey Bada$$, Capital STEEZ, Styles P, Nas, A Tribe Called Quest , Lost Boyz, KMD, Mobb Deep, Mos Def, Chance the Rapper, Gangstarr, Rakim there are way too many to name, but inspiration comes from anywhere really.
10) Who are your top 5 rappers dead or alive?
Top 5 rappers dead or alive. This is hard to choose upon but i'd say Nas, MF DOOM, Mac Miller, Big L, and Biggie smalls, and this is only rapping , production is a whole other category.