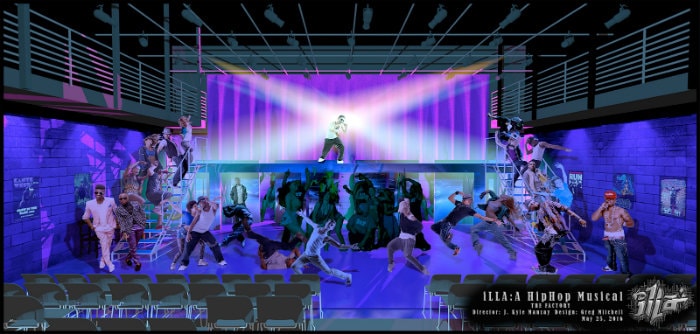 ILLA! a hip hop musical – dreamed up in NYC, celebrated by Broadway trade publication Playbill, and destined for top markets will be making its way through Atlanta, GA for 5 performances on June 10 to 12.
Stop The Breaks had the pleasure of interviewing David Coffman, the producer behind the musical, who spoke about the team's background, their influences, what the musical is about, creation processes and more.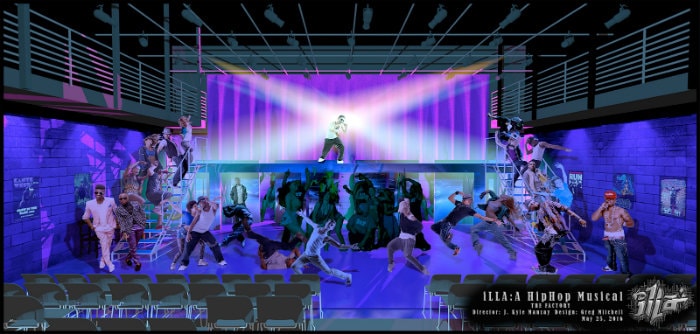 1) Tell us a little about yourself and your background.
The creative team comes from a varied background as Composers, Writers, Musical Director and Director. Most importantly they are also Performers which gives them a "feel" for what works with an audience.
Often writers are stuck in their heads. The iLLA! team have performance instincts about what connects an audience on an emotional level.
2) Who were some of your musical influences coming up?
The creative team as whole covers a very wide range of hip hop, pop and musical theater.
3) How would you describe yourself as an artist? Has your style changed much over the years?
The four members of the creative team are all educated in the theatre & music performance arts. As well Ronve and Jevares are hip hop performers. Jevares is currently touring in the hit musical THE BOOK OF MORMON.
4) Talk to me about iLLA! A Hop Hop Musical – that's something you don't see everyday.
The mixing of Hip Hop and Broadway is a very recent evolution. It makes perfect sense as Broadway started as an art form for the broad public and it continues to grow.
The musical form of hip hop is integral to the story of iLLA! which is about a young man searching to tell his story. Hip hop is a "from the gut" expression spitting out what can no longer be held in side. There is a sense of urgency and drive. The truth must be spoken.
This mixes well with the Broadway narrative form where a story is given a longer structure and more emotional depth that reflects not only on the hero's journey but also engages his family and friends in the process.
5) Can you run me through the creation process?
The show started as a concept album I picked up the show as the 2015 New York Musical Theatre Festival. We continued on to a workshop in Toledo and now are coming to Atlanta. We continue on for a return engagement at the 2016 New York Musical Theatre Festival this July.
6) How has the feedback been so far?
People are loving it. Both hip hop fans and musical theater fans
7) What sort of promotion and marketing are you doing to push the musical?
We are big on social media! With only 140 seats available for each performance, fans should be jumping to secure tickets quickly! Tickets are $15 each, available at: www.cccepa.com/CCCEPA-Box-Office.html
8) What are you thoughts on the current state of hip-hop music today?
Grow and Evolution. Continue to speak the truth and work to merge the "commercial" with emotional honesty.
9) If you could work with any artist you wanted, what would be your dream collaboration?
Our 4 creatives are strong, smart, talented black men. They are their best collaborators
10) What has been the best moment in your music career so far?
This show!
11) So what's next for you?
To take this show through its developmental process all the way to Broadway.