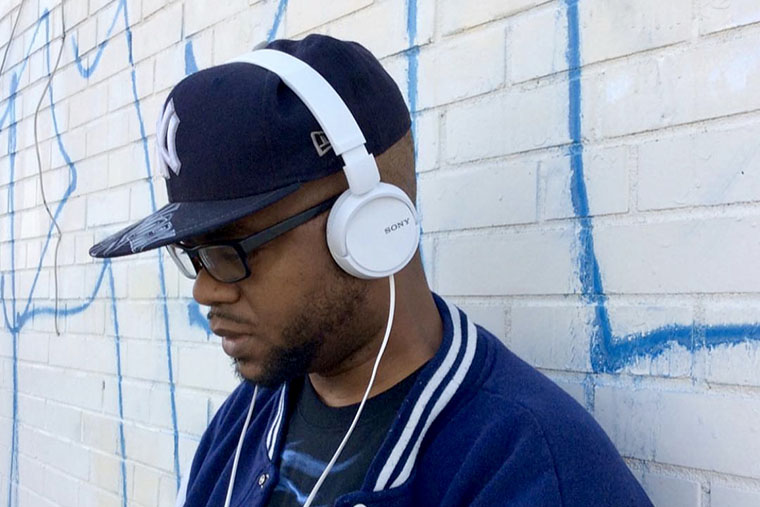 1) Do you remember the moment you wanted to be a hip-hop artist?
Yes I remember. I was in grade school and my biggest influences back then was Rakim (Eric B. & Rakim), Big Daddy Kane, Ice Cube (NWA) and LL. Cool J.
2) What was it like creating your latest project?
I enjoyed put this album together just to see the reaction of people more than anything.many of the songs are actually old but never heard or released, not even locally as a mixtape.
It's like I was in the lab creating a new chemical and needed test subjects to release it to, so regardless of how they react to it or how well it do or don't do I at least get to learn from it to know what I should or should not do the next album.
Considering I'm a 70's baby I grew up listening to the early stages of rap from the 80's up until the mid 2000's. I can't find a large library of modern rap today the way I did during hip hop's 90's golden era so I find myself listening to more old school rap than today's youthful rap.
Because of that I think my music has that 90's feel to it. So creating this album was very nostalgic but with content that discuss topics of current events and sociopolitical issues as well as the hardcore gritty streets.
3) What are you trying to achieve with the project?
Building, building and building. I want to engage a broad audience to find my niche and in return find my foundation fan base and my target audience.
This is all new to me so I'm a novice at this and I'm more into a discoverers mind state. So, ultimately I want to build a grassroots following, a brand that is marketable and a close relationship with fans (family).
4) What are your thoughts on staying independent or signing to a major label?
Well both have their advantages and disadvantages. I can actually use both at the same time or use one over the other depending on the benefits I gain and how big of a benefit I gain.
Independent gives you freedom, creative control, less debt (others with an interest in you as there investment) and more money if your independence is very profitable. Having a major label behind you will give you the public relations and powerful connections but you pay for it all and sometimes don't benefit monetarily speaking.
You can get locked into a 360 deal which means your unrelated venture could be exploited by the majors behind you. This means you can be very famous because of the major labels but also very broke at the same time.
Independent could be the opposite if you able to be a true successful independent artist and be rich but not as famous as a household names. Because of companies and people like yourself along with technology and the internet age it's as if you really don't need major backing.
Of course it harder work and possibly a slow process but the rewards are greater if you are blessed, lucky, skilled or connected enough to meet your expectations. A great formula could be your advantage too.
5) How do you feel about the independent hip-hop industry right now?
Independence in anything you do is always your subconscious object and is what feels good. As teenagers we do things that go against our parents wishes but we do those things in efforts to be independent.
We even get in trouble with our parents and make remarks like " man I can't wait to get older to get out your house" but once we do get older and actually move out we sometimes want to go back because the realities of life responsibilities hit us and we are not always prepared for it sometimes.
But with technology and the digital internet age independence can be an extremely beneficial thing.
6) As an independent hip-hop artist grinding it out, what sort of promotion and marketing are you doing to stand out from the rest?
Well, I have reached out to you all and this is actually my first time doing this so you are my first choice. From here I will find other directions later. For now I am use you all as a support system for marketing.
Because of how the industry is meaning the internet age and so many artist out there both well known and those who are not so known I don't know what is actually good music anymore if I ever did because I find the music and artist today as something I cannot get into.
I thought I was biased and stuck in my Nostalia ways. I made attempts to be more open minded and give these new guys a chance and I have but I cannot get into a lot of today's music. There are other old school rappers that still put out good music today and yes of course I listen to their work
7) How do you feel about hip-hop today?
As I stated earlier I cannot get into majority of rappers mumble or auto-tune based rap. The culture has morphed to a modern punk rock type of culture rather than remaining a hip hop rap genre.
Now that doesn't mean it's a bad thing because what we see is young people making success off of rapping and have internet based platforms that transcends borders and boundaries of geographical locations on a global scale.
This brings us together and makes the world smaller. I just don't like how one specific style of rap is over exposed while others are not. I don't like how it over commercialized either.
This commercialization has push rappers with little to no talent to use gimmicks for profits which means a flood gate has been open for monetary gain and total disregard the craft essential components.
Everyone is riding others coattails so hard all the music sounds the same when I my time of the 90's uniqueness was the objective. Biting someone style was a big no-no. You can be inspired by another artist but not jack their style.
Also rock music has various forms such as classical rock, soft rock, heavy metal, punk rock and alternative rock and they all are respected and equally pushed and promoted. It's seems rap has transpired to various versions but nobody is recognizing it as such to officially give these various form a name and respective place.
Mumble rap should have its own classification and not lumping everything into one big category. Because mumble rap has a life and audience support it should be able to live as such but don't kill other great artist with rap style that sticks the true essence of hip hop by lumping them together while ignoring one to over expose the other.
This where the internet comes in as a beneficial tool because those that don't get mainstream exposure can be heard via the internet to keep them alive.
8) What artists in the game today do you look at for inspiration?
Pharaoh Monch, DMX, Tupac, Biggie Smalls, Jadakiss, Eminem, Redman, Method Man, Joel Ortiz, Mysonne, Cyhi Da Prynce, JID, the late great Sean Price and Papoose to name a few.
9) Who are your top 5 rappers dead or alive?
Of course the usual Notorious B.I.G., Tupac, Sean Price, Freddie Foxx Pharaoh Monch. I actually could put more in this category considering the expansion of great emcees but I will list those five.