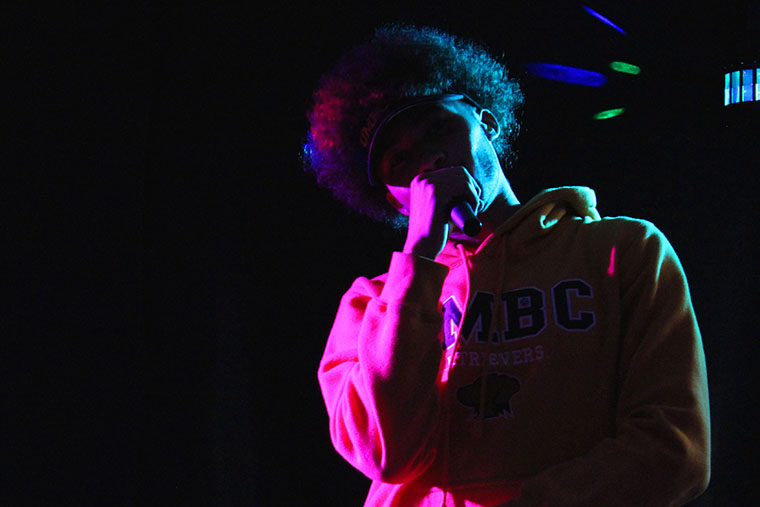 Artist bio: I am a young up and coming rap artist from Waldorf, MD. I have been writing poetry and and raps for years, but I started taking it seriously about 2 years ago after the passing of a close friend of mine that got me in to writing in the first place.
Since then, I have made 2 projects working out of DreamLabs Studios, the first being 'Dice Life Vol. 1' and the newest being 'Duality'. I am also a student at UMBC majoring in Visual Arts.
1) Talk to me about the making of your latest project. What was the inspiration behind it?
Making 'Duality' was a fun and educational experience. I got the opportunity to work with and learn from a lot of local artists and the process as a whole made me a better artist.
After releasing 'Dice Life Vol.1', I wanted to follow it up with a more cohesive project that would really represent the time and effort I put into it. I started with the idea of making a project that would represent the "highs" and "lows" of being an artist and made the song 'Balance'.
After that everything just started to fall into place as I kept writing and collaborating with other artists. My engineer TylerGENIUS also had a huge part in making both projects and developing me as an artist, helping me put together every song and producing a lot of them too.
2) With the music industry tanking and record sales falling, how do you currently make money as an independent hip-hop artist?
As an artist I mostly make money through streams and any gigs that I can perform at.
3) From a business point of view, which artists in the game do you think are really pushing the boundaries and changing it up?
I think a good artist to look at from a business perspective would be Chance the Rapper due to the success he's found while keeping the label of an independent artist. I think it's every artists' dream to reach that level of success while remaining independent.
4) What business lessons have you learnt from the music industry so far?
The biggest lesson i've learned from the industry so far is not to rely on somebody's word alone. I had to learn that, even as a small artist, you can't be afraid to ask for a contract because it's important to protect yourself and to hold people accountable for their promises.
5) What do you love about hip-hop music?
My first tape was a Three 6 Mafia burned CD when I was in elementary school, so i've loved hip-hop my whole life. I think what I love most about hip-hop is that it's a place where people aren't afraid to say what they want to say.
6) What still surprises you about hip-hop?
Something that still surprises me about hip-hop is its diversity. Hip-hop is always advancing and changing, but whether you like the old school or new school, there's somebody out there making the kind of hip-hop you want to listen to.
7) If you had the power to change one thing about the hip-hop industry to help independent artists – what would it be?
If I could change one thing about the industry it would be to do a better job of separating the sub-genres of hip-hop because it's so diverse.
I feel like a lot of small hip-hop artists get lumped together, which makes it harder for them to stand out and reach the audience for the kind of music they make.
For example, conscious lyricists shouldn't have to compete with mumble trap rappers, they're in 2 different lanes that both have a place in the culture.
8) Who do you think are top 3 rappers doing it at the moment?
My top 3 rappers at the moment have to be Saba, JID, and Dave East.
9) So what are your plans for the future?
My plans for the future are to continue making music and trying to reach as many people as I can.