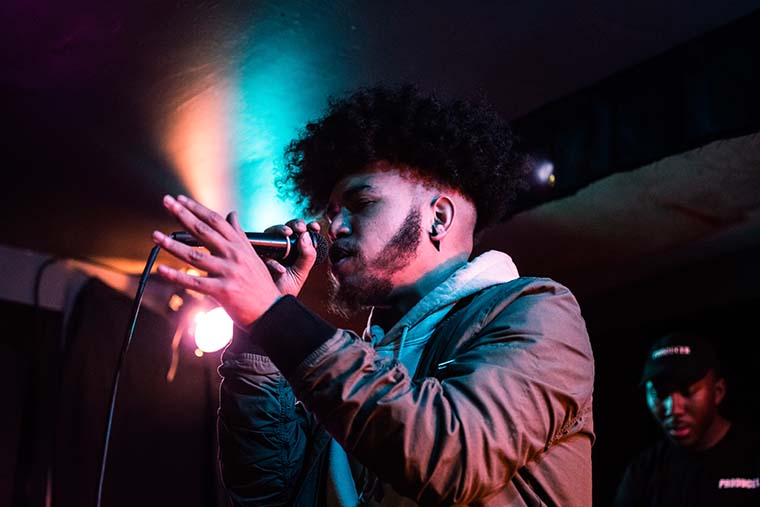 theantisocial, born Justin Bryan Smith on September 11, 1994, is an american hip hop artist from Landover, Maryland.
Inspired by Talib Kweli, Outkast, Nas, and J. Cole, Anti began writing music to cope with the financial struggles his family experienced and his mother becoming chronically ill who later succumbed to a heart attack at 13.
While attending college in New York, Anti's father was diagnosed with Cancer, putting a hinder on his family financially and causing Anti to leave New York and move back to Maryland at the end of his freshman year.
After hanging up the mic to focus on taking care of his father and finishing his pursuit of education locally, he later used his struggle as motivation to keep going.
He began releasing singles throughout the year and steadily building a following as "theantisocial", a name that represents a mistaken characteristic; he just needs time to get to know you before opening up.
The success of his singles gave him recognition from the D.C. creative collective "Last Niight", where he later joined and released two singles with them titled "SHOOK" and "EVOLVE".
While skimming Twitter, The Bassline Group's founder and artist manager, Patrice K. Cokley, came across a DJ Booth article that featured theantisocial.
"I could hear the hunger and pain in his voice. You could tell he's been through a lot and was willing to do whatever it took to make his dreams come true for his family.
With both of us being Virgos who have lost a parent as adolescences, I was able to relate to his story in more ways than one."
Within one week of meeting each out via Skype, both parties agreed to move forward in a management agreement where Patrice will oversee strategy and his business affairs.
After many years of trials and tribulations, which developed him into a hard-hitting lyricist with a unique image and big red hair, theantisocial can't help but to stand out visually, and lyrically.